MRT/GET 2021 Day 23, April 27, Tuesday
• Start Alma 18090
• End Bursum Road 20055
• Miles walked: 13.5
I had planned to take a room and rest, but Cairn pointed out a mistake in my planning spreadsheet, so I actually have less days to complete my trip by a mid-May deadline to help Dottor with something. The store in Alma has enough for resupply, so I decide to spend a few hours here and continue on by noon.
The cafe and general store in Alma is popular this morning. USFS staff, hotshot crews, ranchers with trailers full of cattle and saddle horses, tourists, local retirees, and more stop by for breakfast, and lunch looks to be completely full as I depart.
Mineral Creek Road has an RV Park with a cool collection of ancient small tractors.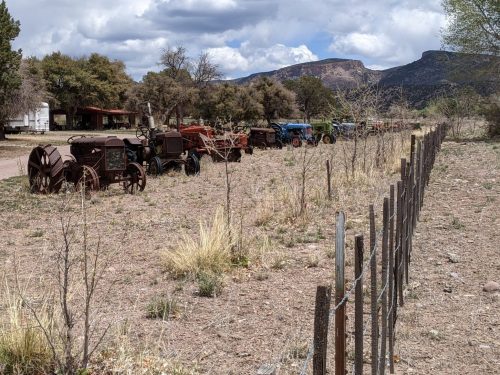 Mineral Creek Trail has enchanting rock formations at every turn.
A successful gold and silver mine was along here in 1880, and artifacts remain to puzzle over.
The upper portion of Mineral Creek Trail becomes vague, with flood debris and vegetation obscuring the way. Then a steep climb out of the canyon on Log Canyon Trail eventually leads to Bursum Road, a major graded forest road in the Gila.