MRT 2021 Day 22, April 26, Monday
• Start S7 mile 35.0, Little Blue Creek
• End S7 mile 48.9 MRT end, then 10 miles to just outside Alma
• Miles walked: 23.9
I camped at the joining of Hannah Springs Creek and Little Blue Creek, and could feel the warmer water in Hannah. I had planned to hike 0.4 miles to Hannah Hot Springs this morning for a soak, but the very first pool was way too deep for me. Oh well.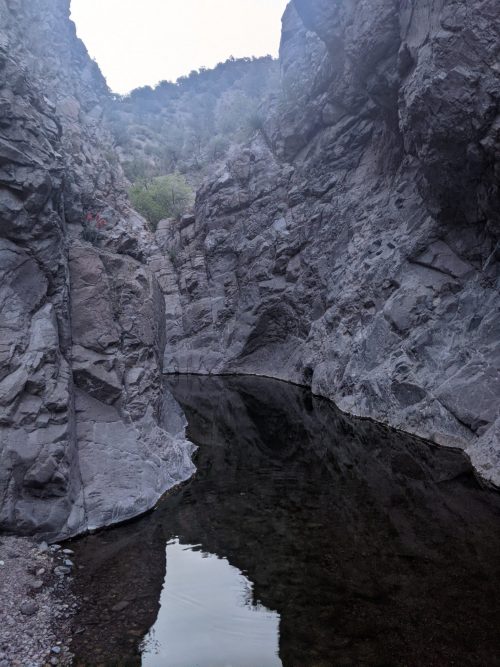 Continuing down, Little Blue joins the Blue River, which I had just been on yesterday. Going a ways south, our route diverts to the Baseline Trail, with a climb of 1.5k feet, ouch. Here is a parting view of the Blue from part way up.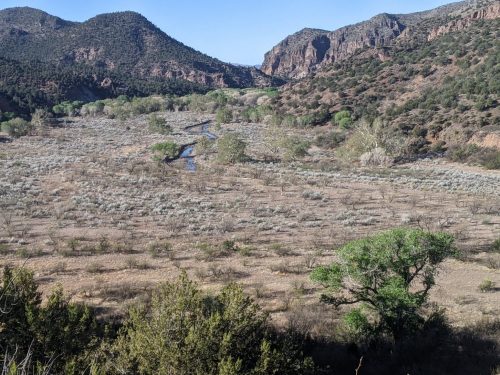 After climbing, the trail goes along a contour of a ridge headed east, with views below.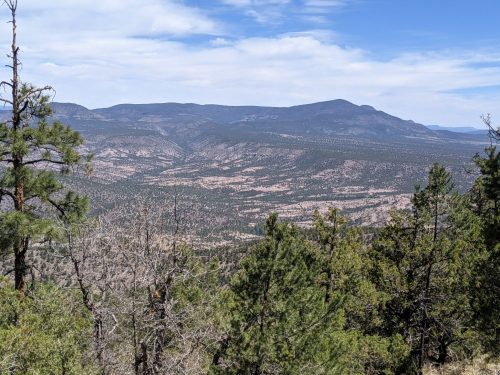 Finally the route gets to the Arizona-New Mexico border at a simple unsigned gate next to a very welcome water source, Charlie Moore Spring and troughs. This is the official end of the Mogollon Rim Trail!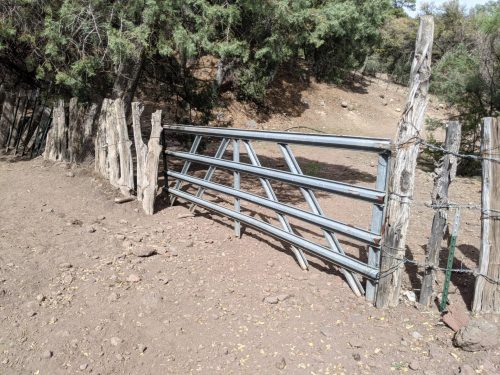 I continue along Sunflower Mesa as I had done on my Grand Enchantment Trail thru-hike, but know I cannot get to Alma or Glenwood before dark. I camp on Forest Service land just outside Alma, hoping for a day off the trail in a very nice stone cabin in Glenwood tomorrow.
My crazy plan is to walk home, since the Grand Enchantment Trail goes past Alma, and also goes very near my home. If you only are interested in reading about the MRT, then stop here. Otherwise, let us continue up the trail together…