In preparation for a NMVFO unsupported (i.e. no gear hauled by horsemen and no cooks) backpacking project on the Capulin Trail #158 in the Pecos Wilderness, I scouted trail to see the condition. Arriving at Borrego Mesa Campground, I found a small no-fee campground with a few sites, with some picnic tables and fire rings and corrals, but strangely the double vault toilet was permanently closed, with the metal doors welded shut and blasted by gunshot.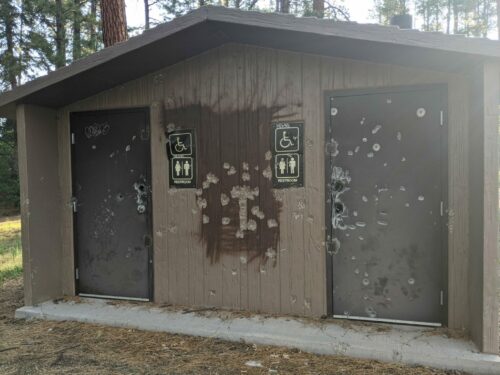 The Rio Medio #155 Trailhead is a short distance away on an unmaintained rutted dirt road. The trail itself goes along the Rio Medio, and is well maintained and appears to be frequently hiked, with no recent forest fires to cause problems. The trail tends to stay upslope a few hundred feet, to avoid washouts and brushy conditions nearer the river. At about 6 miles, near the intersection with Capulin is the only wet-foot crossing, where a crossing log broke in two.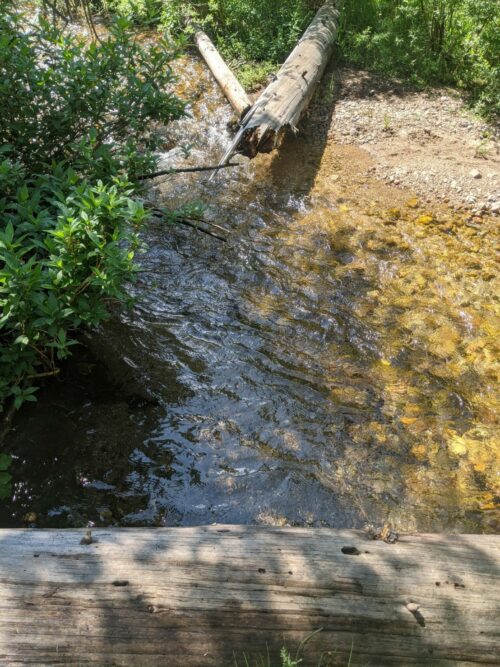 Capulin Trail itself seems impassable with a large number of blowdowns in a recovering 2013 Jaroso Burn area along a narrow creek canyon.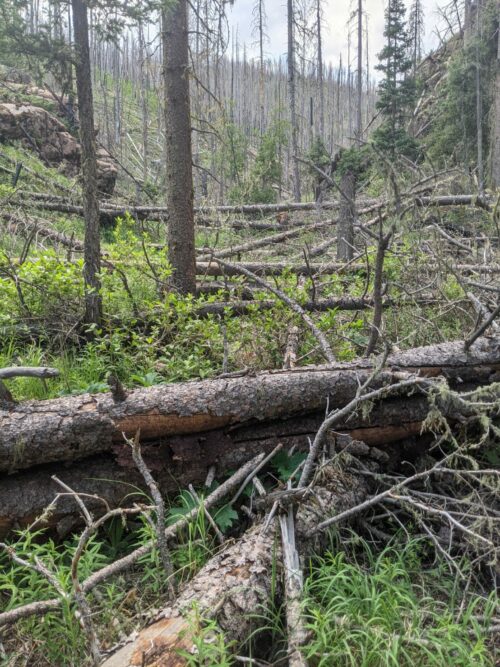 I counted 50 blowdowns in a 0.25 mile section, and the tread is now unused and nearly invisible. The logs are mixed conifer, sometimes up to 1.5 or 2.0 feet in diameter.
Near the intersection of Rio Medio and Capulin is a small flat area suitable for backpacking camp, although it is not far enough away from trails and streams as one would like.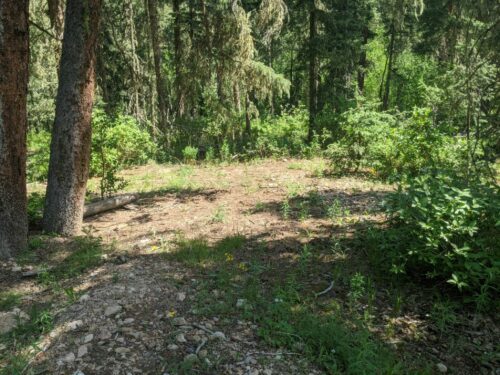 Capulin Trail is marked with survey tape for about 0.35 miles, and I could not find any tread or trail markings beyond that point. The number of stacked blowdowns were difficult to scramble over, and I could not go further than 0.4 miles before needing to start my return hike, far short of the 2.6 miles I hoped to scout to the intersection with Sierra Mosca Trail #156.
Capulin Trail, with Sierra Mosca and the Rio Molina Trail that will have a project later in the summer, gives the possibility of loop opportunities, if Capulin can be saved before it disappears entirely. I need to do more research this week.