Jennifer Sublett from the Santa Fe National Forest and Stephanie McGovern with the Gila National Forest presented a 3-day (!) first-aid course for 19 members of the New Mexico Volunteers for the Outdoors, Socorro Search and Rescue, and the Northwest Chapter of the Back Country Horsemen of New Mexico, November 22-24 at the Open Space Visitor Center in Albuquerque.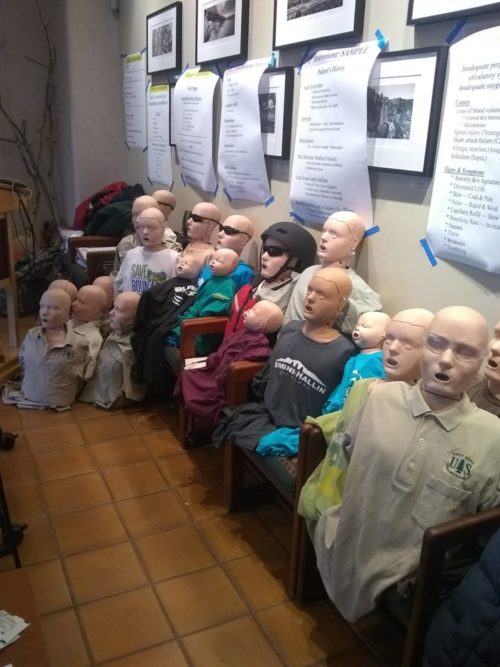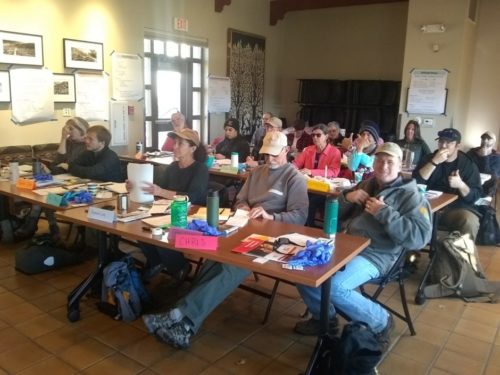 Challenging scenarios helped prepare us for unexpected situations, stretching our brains. Later scenarios showed us that as humans we are imperfect, and are prone to overlook fundamentals in an emergency, like responder safety, or comforting a patient with conversation and eye contact.
The course was phenomenal . Thanks so much to the organizers and venue.
On the second day a couple of class members were lying down outside on the lawn, getting ready for a scenario as victims. When two visitors to the nature center went past, they let them know what was happening. "Don't worry, we are part of a first aid class." The visitors replied, "Oh, I thought it was just Albuquerque."