Agatha Clay: People keep giving me rings, but I think a small death ray might be more practical.
— "Agatha Heterodyne and the Clockwork Princess", by Phil and Kaja Foglio
| | | | | | |
| --- | --- | --- | --- | --- | --- |
| | | | | | |
| . | Category | Item | Notes | Weight in grams | Weight in oz |
| . | worn/carried | | | | |
| . | | camp shirt | SmartWool Microweight long sleeve crew | 171 | 6.0 |
| . | | pants | RailRiders Eco-Mesh Pant | 310 | 10.9 |
| . | | trailrunner shoes | Merrell Moab Ventilator | 992 | 35.0 |
| . | | hiking gaiters | Dirty Girl | 34 | 1.2 |
| . | | insole inserts | green SuperFeet | 106 | 3.7 |
| . | | hiking socks | REI mid-calf merino | 91 | 3.2 |
| . | | knee brace | Cho-Pat Dual Action Knee Strap | | |
| . | | bandana | AT logo cotton/poly bandana | 30 | 1.1 |
| . | | trekking poles | Black Diamond Ultra Distance Z-pole with carbide tips minus straps | 263 | 9.3 |
| . | | sun glasses | | 20 | 0.7 |
| . | | hat | Outdoor Research Helios sun hat | 79 | 2.8 |
| . | | | | | |
| . | Total worn/carried | | | 2096 | 73.9 |
| . | | | | | |
| . | | | | pounds: | 4.6 |
| . | | | | | |
| . | | | | | |
| . | pack | pack | Zpacks Arc Blast backpack | 440 | 15.5 |
| . | | pack liner | trash compactor bag | 60 | 2.1 |
| . | | cell phone holder | Zpacks cuben fiber shoulder pouch | 8 | 0.3 |
| . | | phone | Android phone: Defy XT 557 (camera, GPS, etc) | 109 | 3.8 |
| . | | | | | |
| . | Cook/water | water bottles | 2x 2 liter soda bottles | 106 | 3.7 |
| . | | even more water | 2x 1 liter Platypus | 57 | 2.0 |
| . | | cook stove | Caldera system with alcohol stove in plastic cannister | 133 | 4.7 |
| . | | fuel bottle | labeled 12oz soda bottle for methanol | 22 | 0.8 |
| . | | butane lighter | Scripto Tiny Lite | 12 | 0.4 |
| . | | cook pot | 0.5Liter Evernew Titanium mug-pot with lid | 74 | 2.6 |
| . | | pot cozy | homemade with Reflectix | 25 | 0.9 |
| . | | spoon | lexan | 9 | 0.3 |
| . | | water purifier | Sawyer Squeeze | 81 | 2.9 |
| . | | water purification backup | repackaged Potable Aqua tablets | 10 | 0.4 |
| . | | food bag | ZPacks Roll Top Blast | 40 | 1.4 |
| . | | rope | ZPacks 1.5 mm Z-Line Cord | 21 | 0.7 |
| . | | | | | |
| . | Shelter | tarp/tent | ZPacks Hexamid solo tent w/screen | 269 | 9.5 |
| . | | tent stakes | 6 Tite Lite titanium stakes | 37 | 1.3 |
| . | | tent stakes | 1 titanium V Stake | 9 | 0.3 |
| . | | | | | |
| . | Sleeping | sleeping bag | Western Mountaineering SummerLite 32F | 571 | 20.1 |
| . | | sleeping bag liner | Cocoon silk Mummy Liner | 115 | 4.1 |
| . | | sleeping pad | Gossamer Gear NightLight_Torso | 101 | 3.6 |
| . | | ground cloth | Polycryo medium size | 42 | 1.5 |
| . | | | | | |
| . | Clothes | camp shirt | Icebreaker merino short sleeve | 142 | 5.0 |
| . | | camp shorts | GoLite men's nylon shorts | 132 | 4.7 |
| . | | warm top | Western Mountaineering down vest | 125 | 4.4 |
| . | | warm hat | LLBean Trail Model fleece hat | 36 | 1.3 |
| . | | rain jacket | GoLite Malpais Trinity | 217 | 7.7 |
| . | | wind shirt | Montbell Tachyon anorak | 63 | 2.2 |
| . | | fleece gloves | LLBean Polartec Liner Gloves | 38 | 1.3 |
| . | | compression socks | Truform calf length medium compression | 42 | 1.5 |
| . | | spare socks | SmartWool mid-calf merino | 91 | 3.2 |
| . | | | | | |
| . | Misc | head net | "Sea to Summit" mosquito net, doubles as clothes bag | 23 | 0.8 |
| . | | first aid kit | band-aids, molefoam, aspirin, loperamide, sudafed, super glue, … | 61 | 2.2 |
| . | | sewing kit | home assembled | 20 | 0.7 |
| . | | tooth care | dehydrated dots of toothpaste, toothbrush with trimmed handle, gum brush, floss | 17 | 0.6 |
| . | | soap | Dr Bonner liquid in 0.5oz dropper bottle | 24 | 0.8 |
| . | | moist-wipes | 8 wipes in zip bag | 75 | 2.6 |
| . | | toiletry bag | no-see-um mesh bag 5″x6″ | 4 | 0.1 |
| . | | magnifying glass | credit card size fresnel lens | 2 | 0.1 |
| . | | wallet with id | all-Ett sport sailcloth wallet (5g) plus cards | 30 | 1.1 |
| . | | repair kit | duct tape, foil tape, sealer, etc | 25 | 0.9 |
| . | | backup fire starter | Spark-Lite + 3 tinder wads | 6 | 0.2 |
| . | | pen | ballpoint refill cartridge + spare | 1 | 0.0 |
| . | | flashlight | Petzl e+Lite | 27 | 1.0 |
| . | | backup compass | Suunto Clipper compass | 4 | 0.1 |
| . | | maps | Ley maps, double-sided 8.5×11, current trail section | 55 | 1.9 |
| . | | solar charger | Instapark M4S 4W folding solar panel with built-in 2,000 mAh battery pack | 220 | 7.8 |
| . | | usb charger | for phone and battery pack, Apple travel charger | 23 | 0.8 |
| . | | usb cable | 9inch microUSB cable | 13 | 0.5 |
| . | | recharger pack | mophie juice pack powerstation 4000mAh | 128 | 4.5 |
| . | | headphone | earbud, not inside-ear | 5 | 0.2 |
| . | | itinerary+guide | only carry pages needed for that week | 10 | 0.4 |
| . | | insect repellent | 100% DEET repackaged in 0.5oz dropper bottle | 23 | 0.8 |
| . | | sun screen | liquid, repacked in 0.5oz dropper bottle | 24 | 0.8 |
| . | | toilet paper | partial roll, remove cardboard tube, in zip bag | 20 | 0.7 |
| . | | knife | Victoronix Swiss Army Classic | 18 | 0.6 |
| . | | accessory bag | no-see-um mesh bag 7″x9″ | 8 | 0.3 |
| . | | | | | |
| . | Total base weight | | | 4103 | 144.7 |
| . | | | | | |
| . | | | | pounds: | 9.0 |
Differences with the Appalachian Trail list:
Water is scarce, with 20 miles to next reliable water source not uncommon in southern New Mexico, so a different pack capable of comfortably carrying 5 or 6 liters of water (over 10 pounds) a long distance is needed.
The extra water is heavy, so my frameless Mariposa pack will not do.
Available water is often turbid, which limits performance of UV water treatment. One of the new lightweight squeeze filters is used this trip.
The CDT is often cold, with big drops in nighttime temperatures, so a warmer sleeping bag, sleeping pad, and clothing are desirable.
With higher elevation and no "green tunnel", sun exposure is greater. I decided to hike in long sleeve clothes, sun hat, and sunglasses. And a wide-brimmed hat is not sufficient to protect my face when hiking all day, so more sun screen is used.
Fewer trail towns mean I need a better charging solution for cell phone(gps/camera/mp3 player/ebook reader/journal/audio recorder) and I tried a folding solar panel mounted on top of my pack.
An electronic trail journal is now used in place of paper. I needed a better onscreen keyboard to get my typing rate up to an acceptable level. MessagEase is a free substitute keyboard that works for me, but has a really steep learning curve, so I needed to drill on the MessagEase Game every day from January to April before my trip. I might write about other phone apps useful for hiking in another post.
Equipment Experience
The light-weight merino long sleeve shirt worked fine as a camp shirt on the AT, but started wearing out when used as daytime clothing, especially under the pack straps. No amount of sewing kit repair could keep the shirt together by the final days of the trip.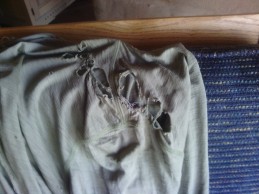 One week I was running low on sun screen, having left my bottle at the last hotel. To keep my hands from burning I added thumb loops to my long-sleeved shirt. The seams at the wrist just happened to be placed in such a way as to keep my modification from ripping the material.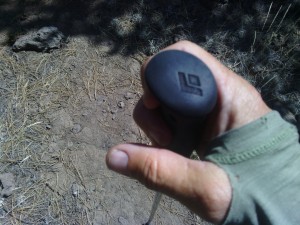 The solar panel with built-in battery pack was not enough to keep up with my cell phone charging requirements, so I also needed the external USB charger pack. I will try a different solar panel next year in hopes of not needing to supplement with my mophie. The solar panel was attached with mini side buckles sewn onto the panel fabric and backpack attachment straps, providing quick release to get access to the top opening of the pack.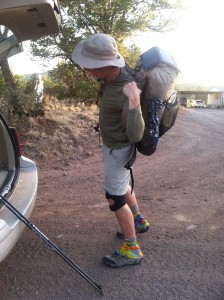 Running gaiters kept small rocks and sand out of my shoes, so I almost never had to stop for a shoe break. The gaiters got pretty torn up by barbed wire fences, so were ready to be replaced by trip's end at Cumbres Pass.
My Helios wide-brimmed hat was not enough to keep my face and neck from burning when hiking all day, especially when the sun was low in the sky. I needed to pin my bandana with safety pins on the brim for more shade.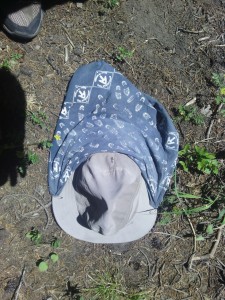 The Caldera cooking system used on the AT performed well, but requires a separate plastic canister for storage. I tried transitioning to a home-made stove/windscreen/pot-support that fits inside my 0.5 liter pot for compact storage and to save weight. Plenty of wind can be expected on the CDT, so a good functioning wind screen is essential for alcohol stoves. I experimented with making several alcohol stove designs, but was not able to improve on the Caldera for cooking time and fuel use when I measured performance, so I stayed with the older equipment.
The Sawyer filter worked great, and was similar in weight to a Steripen, so I will keep using. I did include the syringe for backwashing the filter, and certainly needed it for New Mexico. During the day I kept the Sawyer screwed onto one of two 2-liter plastic soda bottles, stored in the lower outer side pockets of the pack. The soda bottles squeezed just as easily as a platypus bottle, and were quite durable and inexpensive. Do not screw on the filter too hard on the bottle threads, or you will chew up the washer and cause leakage during filtering.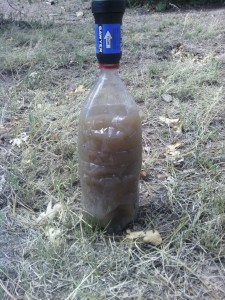 I am used to hiking in shorts, but switched to long pants this trip for sun protection. The RailRiders performed well, did not bind at the knees, and allowed ventilation with the side zippered mesh.
Related Posts: