NMVFO volunteers returned to the Apache Kid Wilderness for a backpack trail project, parking at Springtime Campground and hiking 3 miles to a ridge just above San Mateo Spring on Apache Kid Trail #43. Scouting last week revealed that both San Mateo and Nave Springs had water, not expected in late October, so we were pleased to have a reliable water source.
The first day, after setting up camp on the ridge, we hiked along Apache Kid Trail to Cowboy Trail #44 and all blowdowns up to the lookout and cabin. While scouting this section, I was not able to find the second half of Cowboy, and neither could our full group. (I had also had problems following this trail while hiking the Grand Enchantment Trail a few years ago.)
Saturday we had planned to hike further on Apache Kid Trail, but higher winds induced us to avoid burned areas with standing snags, and instead divert to Shipman Trail. Last week while scouting we had flagged the trail up to Nave Spring, necessary because of disappearing tread. Sometimes the only way we knew we were on trail was to find sections of rebar from old water bars– the logs since rotted away or burned away. We managed to clear blowdowns from about 2 miles along Shipman.
Sunday we worked back towards Springtime Campground, nearly finishing lopping Apache Kid from the junction with Shipman down to the campground.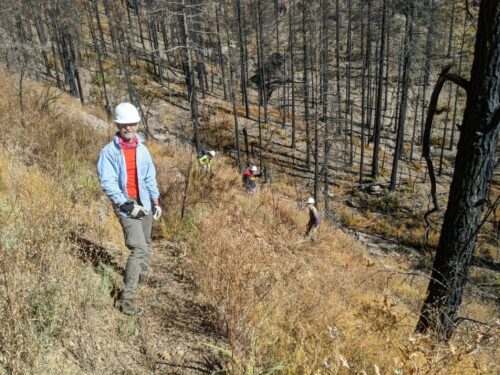 Our skilled and motivated team experienced fine discussions, good teamwork, high adventure, and marvelous views. Nick, Anna, Julia, Jim N, Paul, and Nigel built a memorable trip.