MRT/GET 2021 Day 24, April 28, Wednesday
• Start Bursum Road 20055
• End 20320 on High Country Bypass, about to rejoin with main route
• Miles walked: 18.9 bypass + 6.2 = 25.1
My tent was sagging strangely in the middle of the night. Surely iI did not pitch the tent so poorly? Then I understood.
Walking further on Bursum Road, now at 9k elevation, it started to snow pellets and the clouds spread wide and low, as snow crunched beneath my shoes.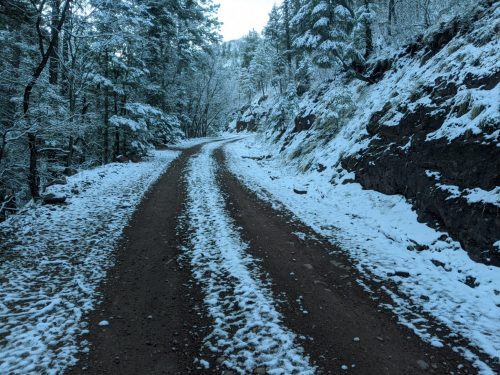 I was soon supposed to start climbing Mogollon Crest Trail, and go even higher. There will be no good views on the crest with these clouds, and the snow will be worse, and I heard a rumor of lots of blowdowns to scramble over in the cold and snow. But the map offered another opportunity, a High Country Bypass, about the same length, that would stay on Bursum longer and then join with West Fork Trail much earlier. That sounds better for today's conditions. And I get to explore someplace new in the Gila.
Bursum.Road offers views to the north, with many burn areas.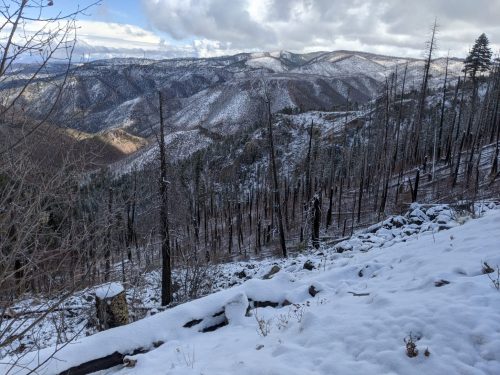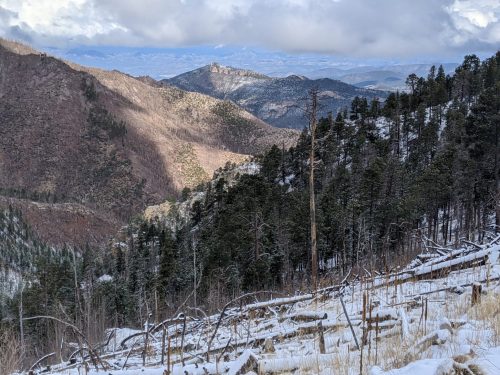 Snow stops, then starts again, repeating during the day. In late afternoon the snow is joined with rain. Light rain showers continue at night. The temperature stays low, even at lower altitudes, so walk fast to stay warm.
At Willow Creek Campground, just off Bursum Road, is a trailhead for West Fork, which starts off as good trail. Then in a burn area that worsened flooding, the trail is washed out for a good distance. Too late, I see a sign.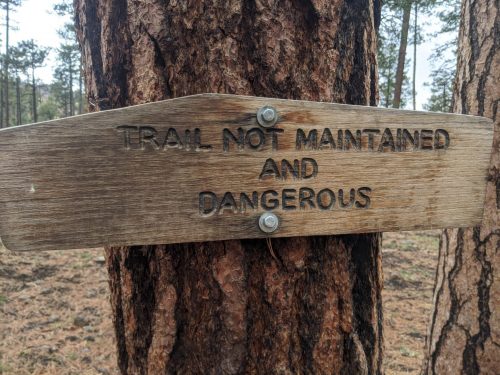 The trail gets good again, only to get washed out in a narrow canyon, slow going as you climb over blowdowns and boulders.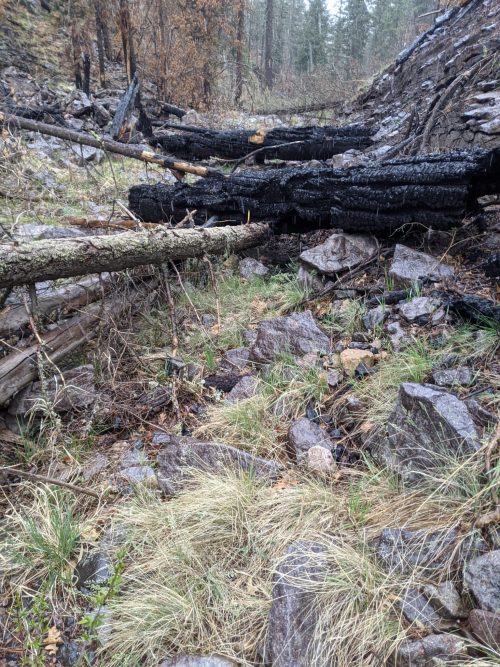 Finally the trail meets the West Fork of the Gila River, only to climb out of the river canyon, where the route is just about to rejoin with the main GET route.
Finished audiobook The Snare, by Rafael Sabatini.