MRT/GET 2021 Day 28, May 2, Sunday
• Start 24060 north of Diamond Peak
• End 26050 on ridge
• Miles walked: 25.3
On the CDT in New Mexico, there are twe alternate paths, that split off just after Silver City. The "official" trail, which we are on now, goes along tho Black Range, and is higher altitude, has fewer water sources, and goes further eastward before heading west to join up with the alternate. The Gila River alternate goes through the Middle Fork of the Gila River, has an extra resupply point at Doc Campbell's, and is vastly more popular among hikers, but is not the official route, because of the rare but non-zero chance of flooding. So when the GET briefly joined the CDT on the Middle Fork a few days ago we were on the alternate, but today we are on the official route. A few days ago we met several hikers at Doc's, with tales of 30 coming through in one day. Today I see no one, and rarely even see footprints.
Down from Diamond Peak, the route stays along a ridge, gradually descending, with views.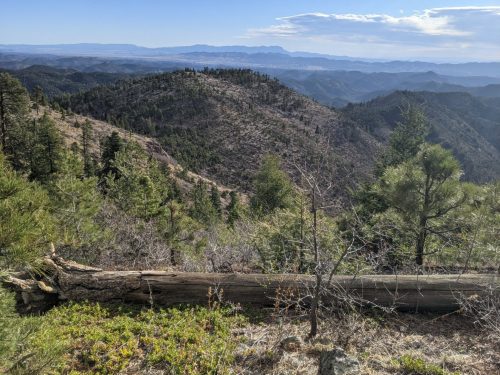 Finally down, as the route approaches near Lookout Mountain, I am delighted to see a new section of trail that I actually worked on last fall with the CDT Coalition.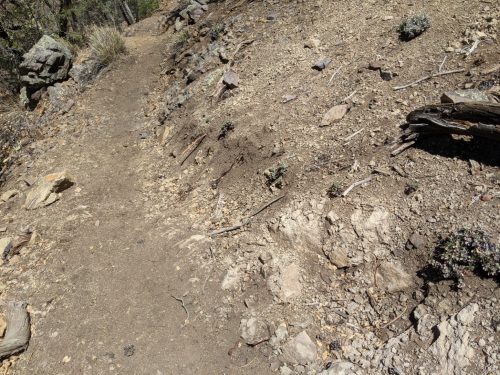 The trail gets on a low rounded ridge and stays on it for most of the day, pretty unusual that a ridge can be continuous that long. There are views in the distance of cinder cones and mountain ranges, too distant for this camera to capture.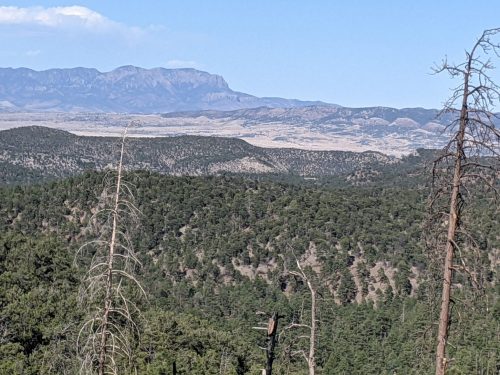 I end the day still on the ridge, at 7.5k elevation, much better and warmer than the 9.5k of the previous night.
Finished audiobook The Man With Two Left Feet, a short story collection by P.G. Wodehouse.