MRT/GET 2021 Day 29, May 3, Monday
• Start 26050 on ridge
• End "seg27 detour water', new bypass for Monticello Box
• Miles walked: 25.9
Continuing with the CDT heading north along a fence line on a sort of ridge on trail or two-track, through mixed conifer and bunch grass, one can see low grassland to east and west, like our section of forest a few miles wide was running out.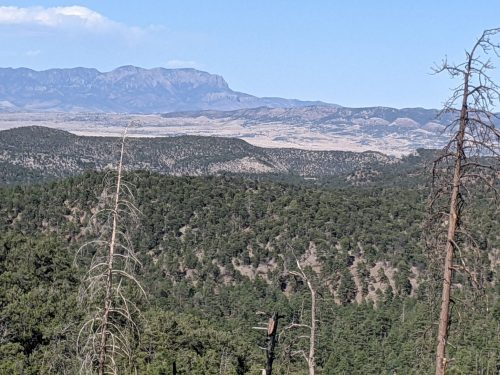 By late morning the CDT departs north, and several miles will turn westward to join with the Gila Alternate south of Pie Town. The GET goes east along a fence line steeply downhill on Duck Canyon Trail, to a very different ecozone, departing the Gila National Forest.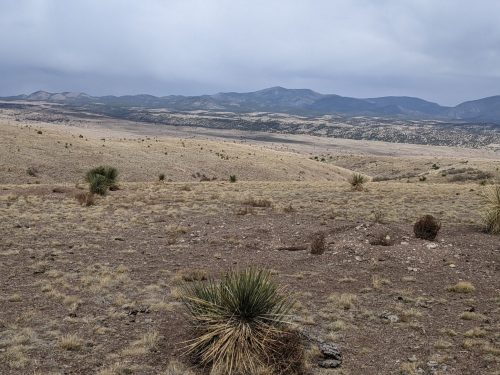 Now on BLM range, I do not see cattle grazing yet– probably too early for this area, but several troughs along tho route help with access to water. Several course changes attempt to avoid private land. Eventually the familiar cliff opening of the Monticello Box can be seen in the distance.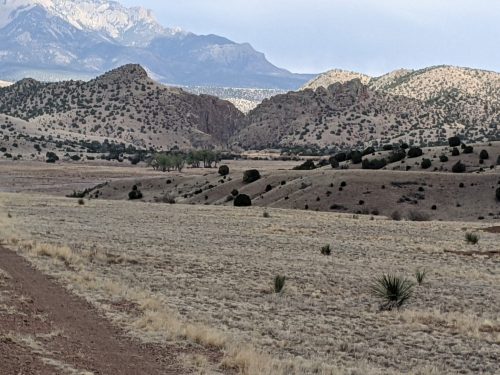 A box canyon with running water fed by a warm spring, the Box used to be accessible, and our family got to explore there, but the public lands involved are now blockaded by local landowners, so the GET has a new route around the controversy.
On the detour, rain clouds that have been threatening all afternoon let loose briefly.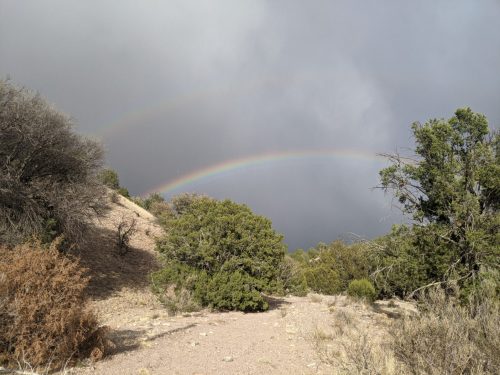 The detour route goes along a Charolais ranch.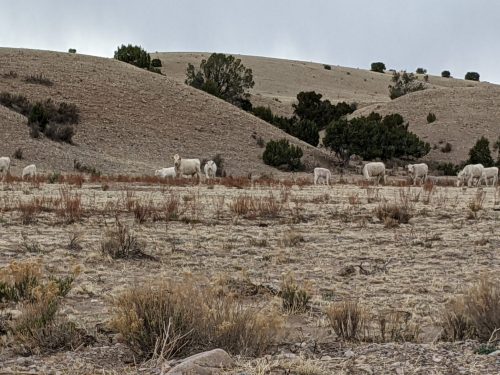 Around this point on the GET is a resupply problem. The distance from Doc's to Magdalena is 10 days or so, too long to carry food. Here near the Box is the first public road in a while, leading south to Winston and a small general store, a 24 mile hitch on infrequently used road, not a good option. My solution now and on my thru-hike is to bury a food cache in this area, but that may not be practical for hikers that do not live in New Mexico.
Just inside National Forest land, I uncover my food box, after several tense moments trying to determine the precise location.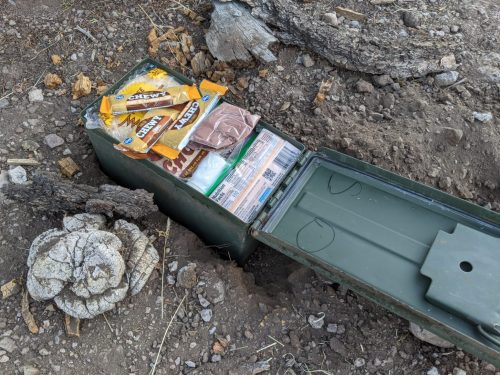 All is good. Adventure ahead.