​GET 2017 Day 10, March 27, Monday.
Start Black Rock Canyon trail, 3 miles from intersection with Holdout Canyon Trail at segment 8 mile 16
End on route to summit of Cottonwood Mountain, segment 8 mile 28
Miles walked: 15
I start the day following a creek drainage for several miles. A small fall at one of several drop-offs gurgles onward.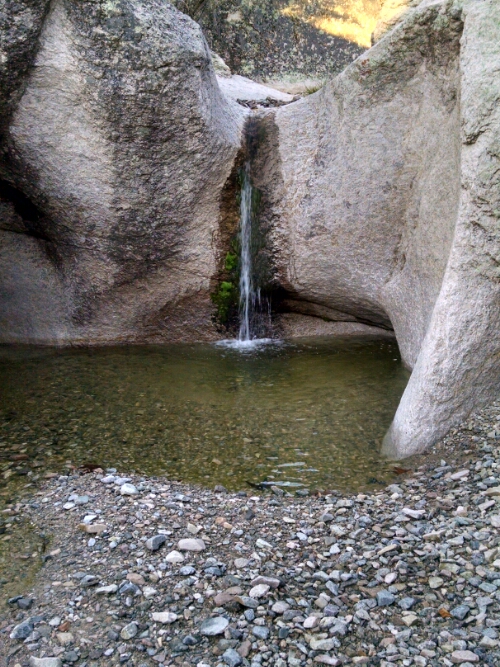 Continuing along drainage of Black Rock Canyon designated Trail 292, I start to see footprints as the trail merges with the main GET route.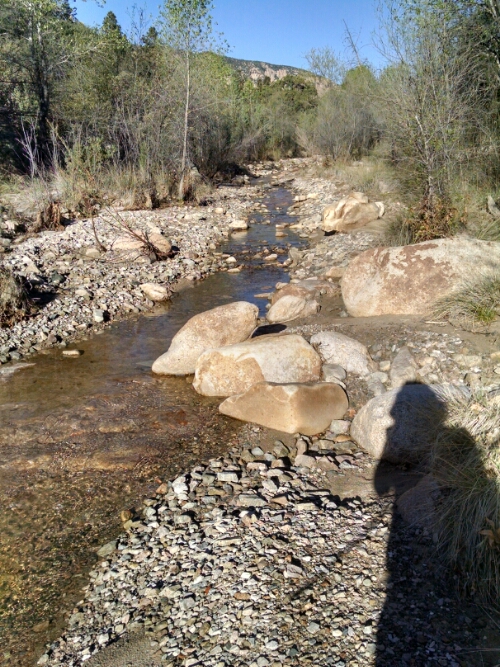 Suddenly I am startled by a warning growl. An animal is near the water's edge, partially in shadow, and warns me to stay clear.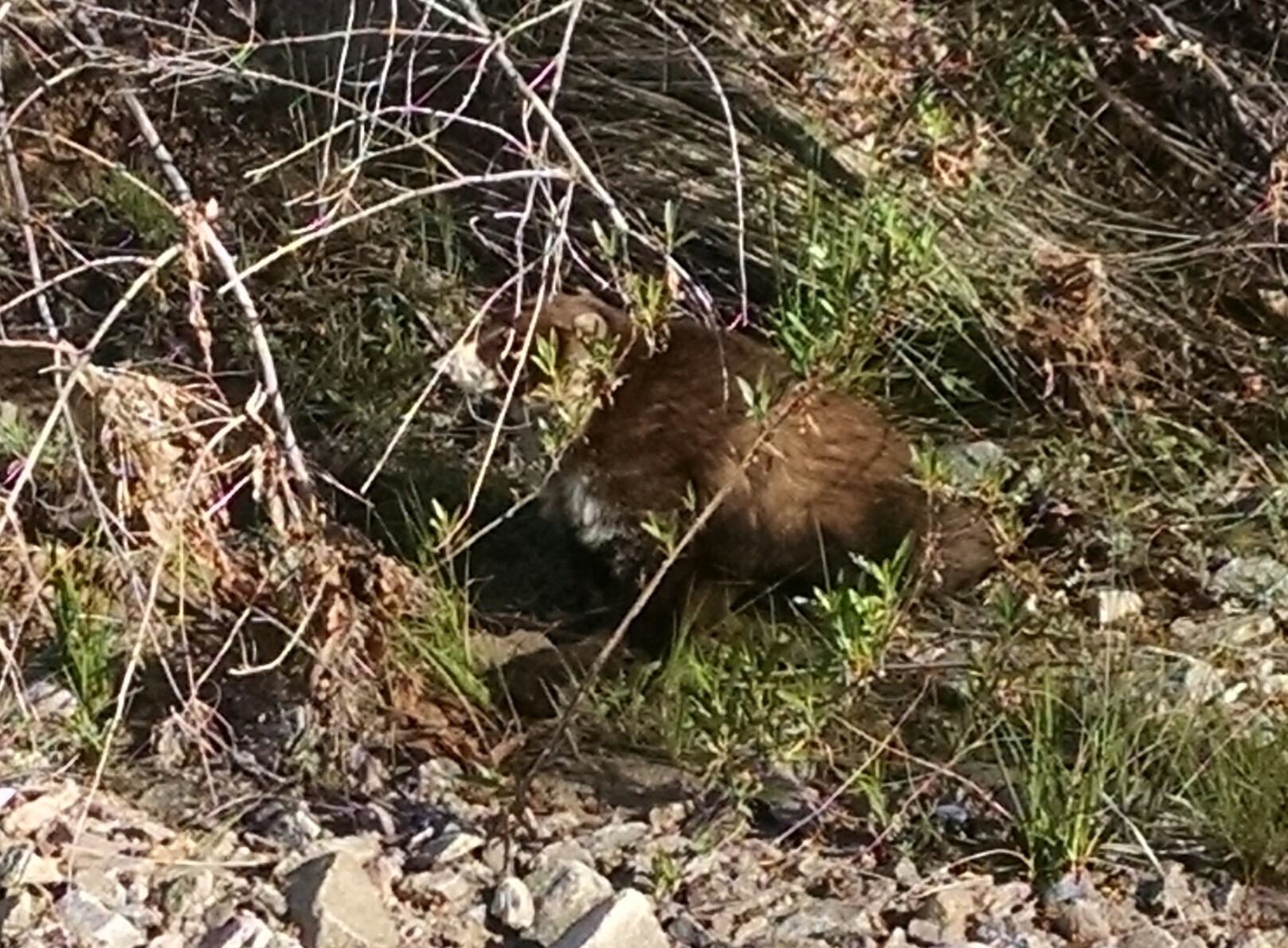 I do not get closer for a better photo to save the animal any distress. This appears to be a badger, but it is in trouble. It cannot move its back legs, and struggles to drag itself along. It cannot survive long in this condition. Could a trap do this, or disease, or a fight?
The map refers to "Advanced Cross-country", where visible paths wink in and out briefly on unusually rocky and steep terrain with wicked stabbing yucca and clinging mesquite. The path jogs back and forth frequently to avoid crossing private lands.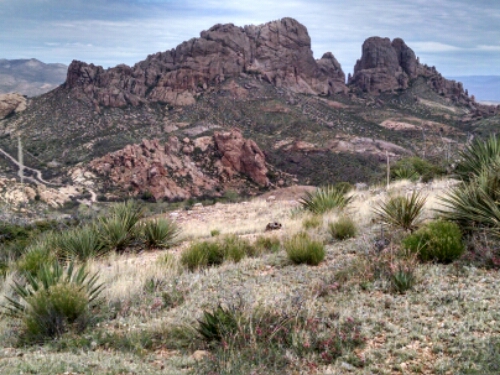 The way is difficult to find and follow, and progress is slow. This will be a low-mileage day even with great effort.
Finally we merge onto a real visible trail that can be followed by mere mortals, Trail 66, with many switchbacks climbing up to Cottonwood Mountain.
Sometimes you see something strange and unexplained on the trail, like a big pile of concrete blocks.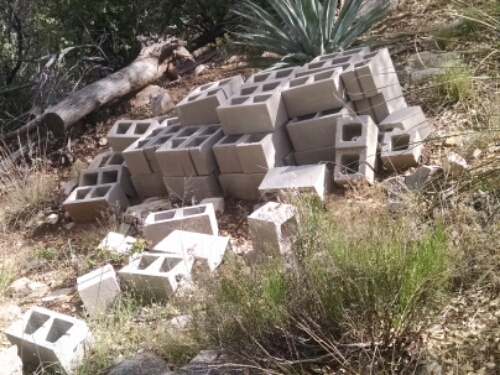 As we go higher, actual deciduous forest grows along Trail 66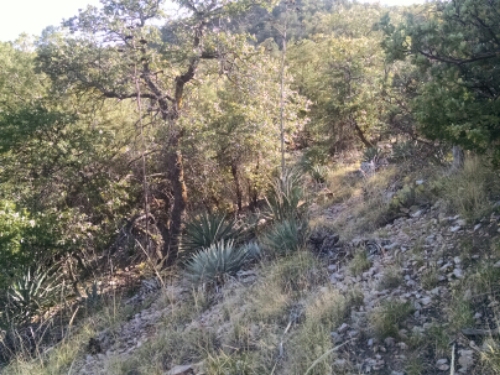 The view from the heights is worth the struggle.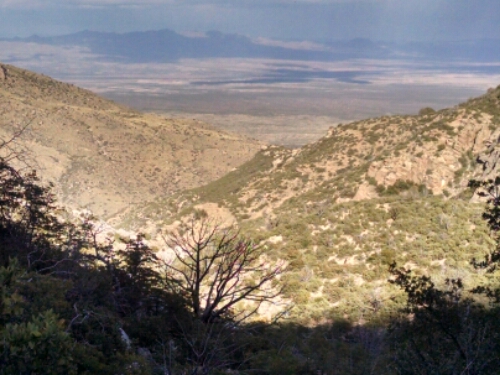 This was the toughest trail segment so far. Since I couldn't make the miles, I am forced to camp at high elevation near the peak of the mountain, and try to find a spot just down from the ridge sheltered from wind and weather to pitch camp.