MRT 2021 Day 11, April 15, Thursday
• Start S3 mile 53.1
• End S3 mile 68.6
• Miles walked: 15.5
After quickly leaving the Highline Trail, the Military Sinkhole Trail (why is it named that?) leads up to the Mogollon Rim. Up on top is cold and windy in early morning. The Lakes Vista Trail follows along the edge, giving vistas of rolling hills of ponderosa pine forest.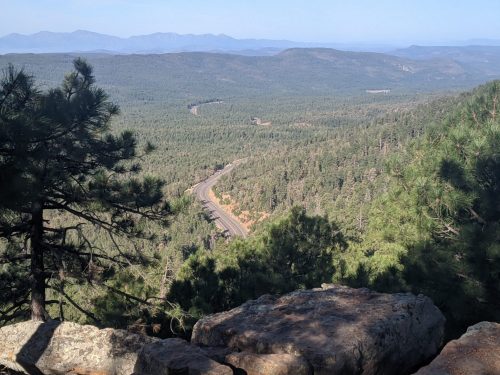 The route eventually leaves the edge and goes along Willow Springs Lake.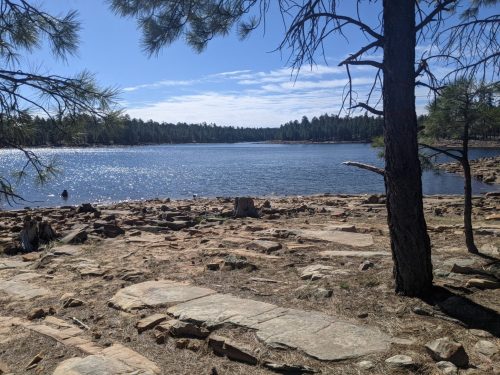 Hiking to the spillway of the reservoir and crossing over, the trail leaves the lake and passes a series of small ponds, and heads eastward through manually thinned ponderosa forest. A herd of wild horses watch me go past.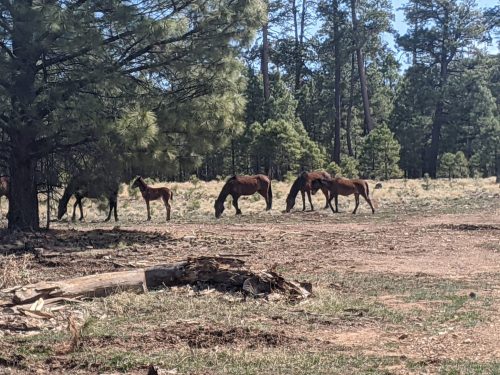 Arriving at the small resort town of Forest Lakes, I make my way to the general store, which also houses the post office, and pick up my supply box. I had walked rapidly all morning to get here before the 1PM post office closing time. Many businesses in this town reopen in mid-April, as most of the vacation homes in the community are unoccupied for winter. The general store was reopening today, under excited new owners. The post office just relocated today in the general store, from its winter quarters in another building. Across the street, I inquire at the RV park if they have a cabin for rent. They were also preparing to reopen, and were not planning to have the cabin ready for a couple of days, but they took pity on this poor hiker and did a quick clean of the rooms so I could stay the night.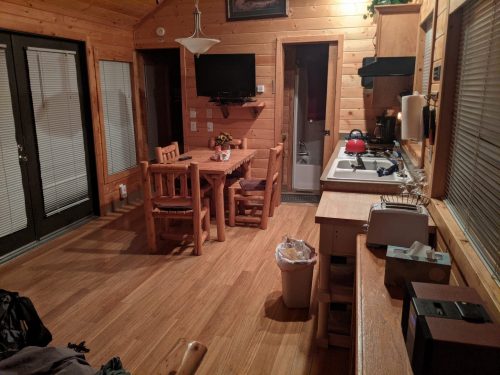 After a soaking bath and using their coin-op laundry machines, I feel renewed.