MRT 2021 Day 16, April 20, Tuesday
• Start S5 mile 26 + 0.4 to campground
• End mile 54.0 along Railroad Grade Trail
• Miles walked: 28
Smoke from the recent controlled burn mixes with the morning sunlight.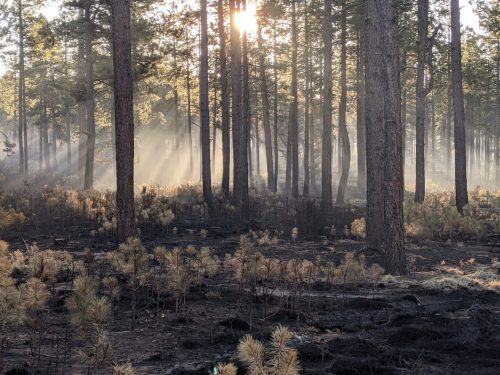 Hiking along Los Burros Connector to an intersection, look what is waiting for me.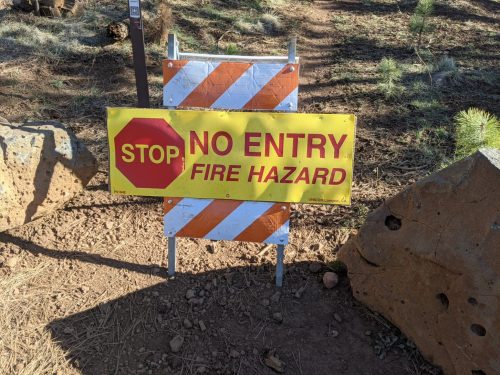 See, this sign is different from the last one. They may be doing a controlled burn right now. But luckily for me, the MRT chooses to take one of its many zig-zags here, and my route is along pleasant dirt road with no prohibitions.
Aspens start appearing among mixed conifer. They have not leafed out yet.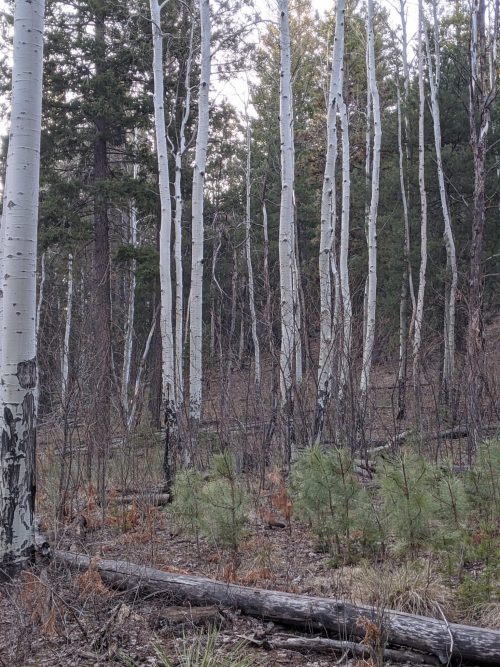 Very gradually over the morning the route climbs along dirt road. Eventually we get to an immense meadow, CC Flat, and hike along a good part of its perimeter. Seasonal ponds in the meadow provide frog croaks and duck calls.
Turning up a jeep road into forest, the way goes along a boundary fence with native lands.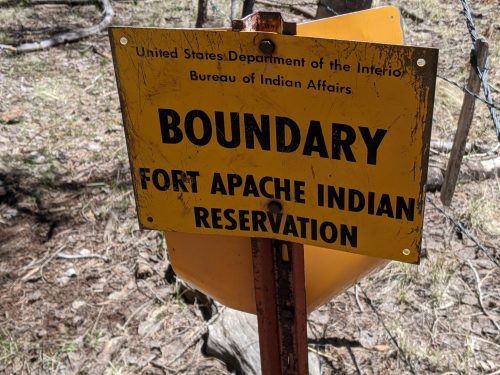 Checking the gps, I am at 9.5k feet. How did we get so high? Leaving the forest, downhill into another huge meadow area, the next adventure is an old railroad converted to trail, the Old Apache Railroad Grade Trail. The path is on railroad berm through more meadow/plain/grasslands.
A herd of elk, a hundred strong, see me walking the trail from a half-mile away, and one of them gets nervous, and they all jump a fence and hide in the treeline.
I make good time on this very straight and level rails-to-trail, with a fierce tailwind. Finally the route passes near a cluster of trees, and I make camp in a depression, the better to hide from wind. Current elevation is only 9.1k feet, and yes, the night will be a cold one.