MRT 2021 Day 14, April 18, Sunday
• Start S4 mile 51.2 of 77.7
• End S5 mile 1.5, just past gate on fed land
• Miles walked: 28
The town of Show Low is close, and I need to get some more food to get to the next town. Can I get to town soon enough to do quick shopping, find wifi, and then get out again onto Forest Service land where I am allowed to camp? It will be close. Walking fast today…
Quickly finishing General Crook Trail, the route goes along Juniper Ridge Trail, marked the same way on bits of old road and one-track, often no visible tread.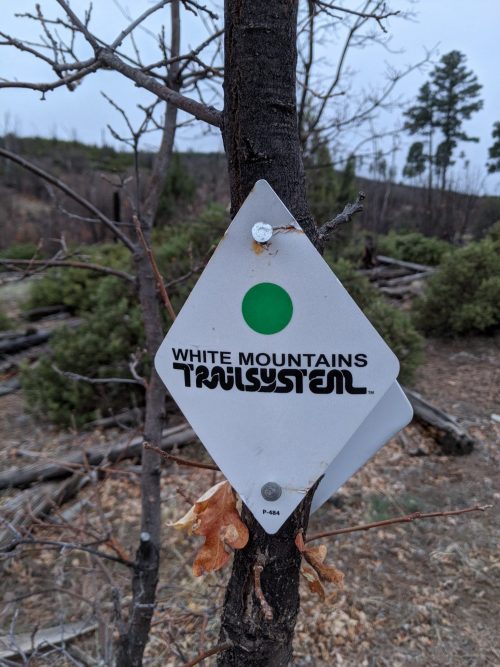 Gaining the ridge, a locked fire lookout tower is a good start to the day.
Clouds have been threatening, but clear at the tower, but gather again. One brief shower requires the rain jacket to be deployed.
From Lookout Connector Trail, the route goes to Los Caballos Trail, then to Chihuahua Pine Connector Trail, to Buena Vista Loop Trail. A new section of Buena is built in swirly mountain bike trail style, and as a treat, goes to the Mogollon Rim, with Ponderosa below.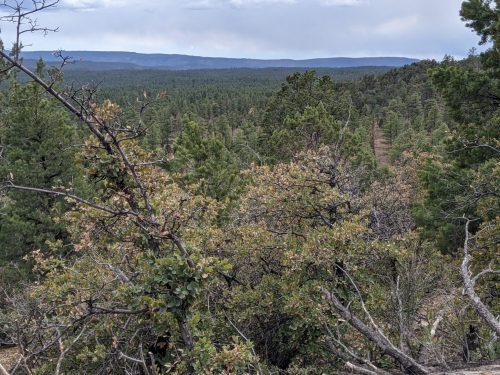 We only get a brief visit to the Rim, as the rest is on tribal land in this area, the Fort Apache Reservation.
Finally reaching pavement, an ice storm lasts for several minutes. Arriving at the big-box section of Show Low, I avoid a giant supermarket and opt for a Walgreens, since I only need a few items to last to the next town. A Lowes home store donates wifi, with my thanks. No time to stop for town food, nor am I craving any, since the last town was recent. On to Show Low Lake.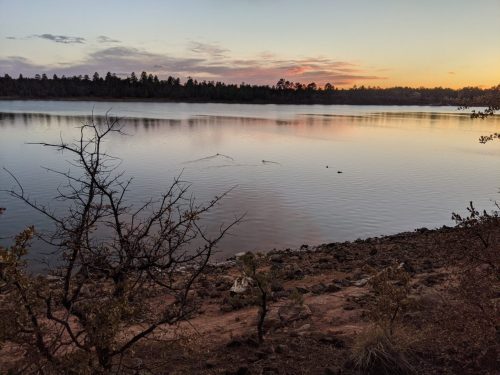 Getting one foot onto federal land, I make camp at dusk.