TL;DNR — Salas Trail has about 50 downed trees within 1.3 miles of the top. Comanche has 0.5 miles of brush that needs lopping near the top, but few downfalls.
Having worked to improve Trigo Canyon Trail and Osha Trail this summer with the NMVFO, I decided to hike the two remaining trails that leave from the John F Kennedy campsite/trailhead and connect with Manzano Crest Trail: Comanche and Salas. I was inspired to hike both trails as a loop.
Don and his dogs joined me at Red Canyon campsite trailhead on the east side of the Manzanos at 8.1k feet, and we hiked up Red Canyon Trail 2.1 miles to reach the crest at 9.7k feet. After 0.5 miles south on Manzano Crest Trail, we reach Salas, and the intersection is signed.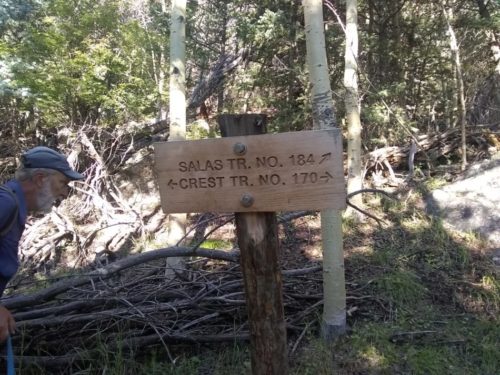 Don joins me down Salas for 1.3 miles, and then turns back. We got off the correct route approaching a large rock outcropping, about the place that Don had trouble on a previous trip. We counted about 50 downed trees on the trail to this point, and few downed trees were found further down.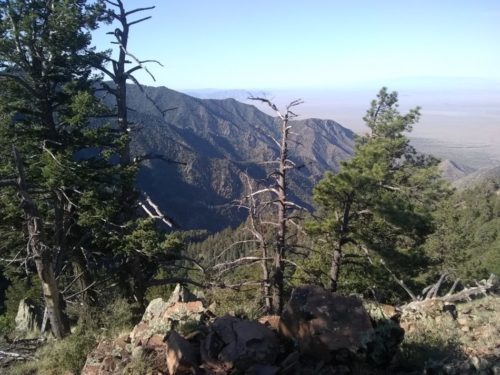 At 1.7 miles on Salas, oak brush becomes rather thick on the trail, and the oak clears somewhat at mile 2.1. I ran into another problem finding the trail at mile 2.4, where several game trails criss-crossed the area.
Afterwards the trail was in good condition, with switchbacks and good views, and no confusing spots. Of all four trails going from JFK to Manzano Crest, this route has the best views, particularly on descent.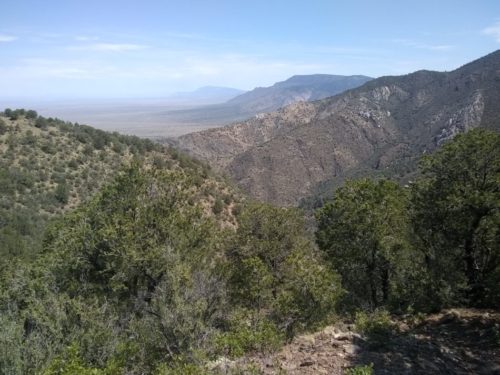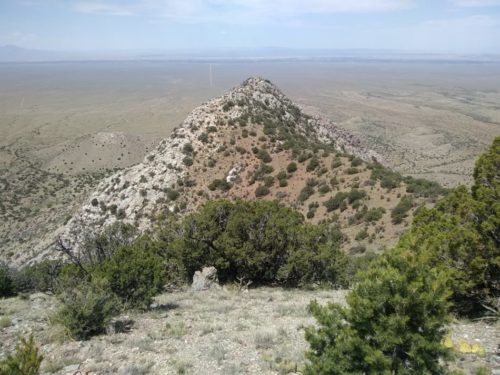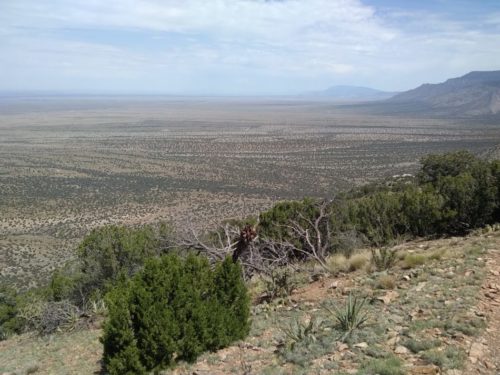 At mile 4.8 I saw the collapsed outbuilding, but did not realize a photogenic cabin was nearby on a spur trail.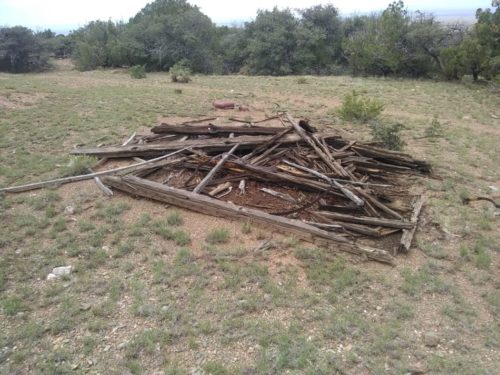 Near the trailhead, the trail got somewhat faint, and then I had to hike a small distance cross-country to the road which leads up to Trigo. This makes it hard for me to describe how to find the trail for people starting from the west side.
Detouring onto Trigo for a mile to refill water, I discovered that some well-meaning hikers had removed the logs and brush the NMVFO had used this summer to close off two alternative trails. One suspects the same thing happened further up the trail.
Comanche was an easy gradual climb for most of the rest of the day. In a few spots the trail became ditched out, until the path enters forest.
I did pass a cow and two calves– are they allowed here?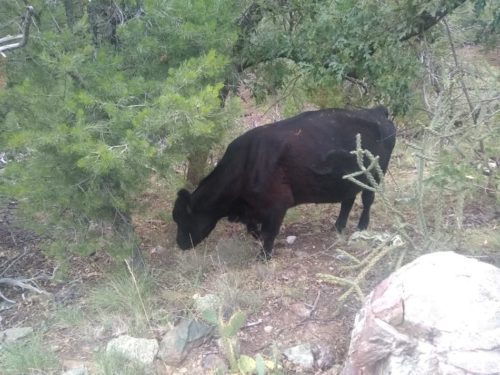 I did not see Comanche Spring, and camped early 0.5 miles beyond, when a thunderstorm started.
The next day, Mina Spring was just mud, with signs of cattle tramping through. At one spot nearby the trail became confusing, where two drainages join. Later the exposed rock walls near the top are the distinctive formations of Comanche Canyon.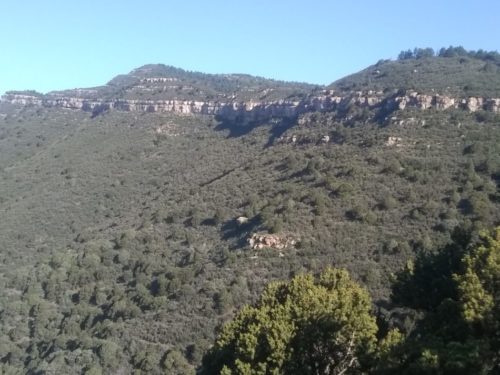 Oak brush started at 0.5 miles from Comanche Pass where Comanche Trail intersects the Manzano Crest Trail. Few downed trees were on Comanche at all, so any work on this trail will have to wait until lopping is allowed again.
Going south on Manzano Crest Trail, some brush was pretty thick for a mile. At Capilla Peak Campground I grab water at the adjoining spring. Downfalls along the Crest Trail were infrequent, perhaps one tree every half mile. Walking along the Crest and enjoying the views is a fine way to spend a day.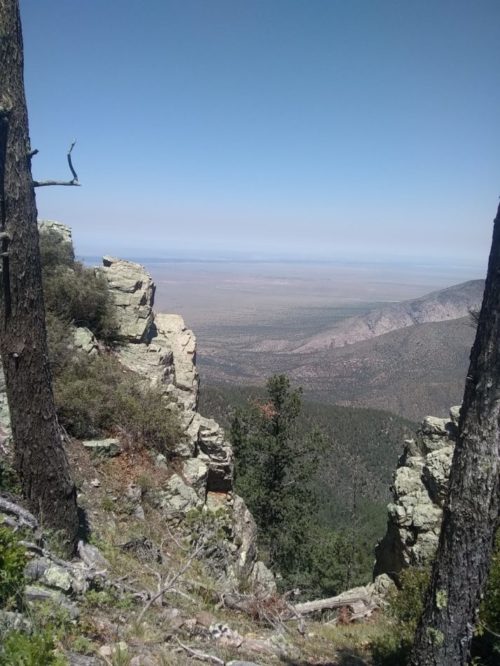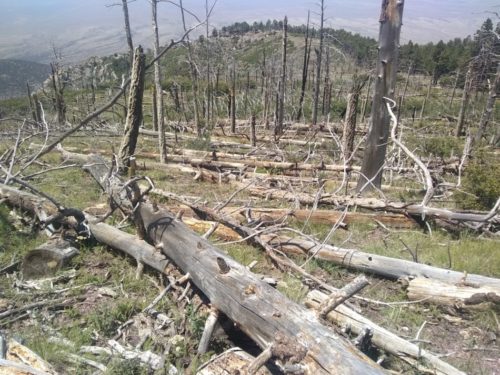 I take Spruce Canyon Trail from Crest Trail, at a signed intersection. This trail looks like it has been recently maintained, and is in good condition.
The round trip from my car and back was about 26.4 miles, a good trip.