Climbing up Argentine Pass and looking back down, one sees a cluster of beaver dams.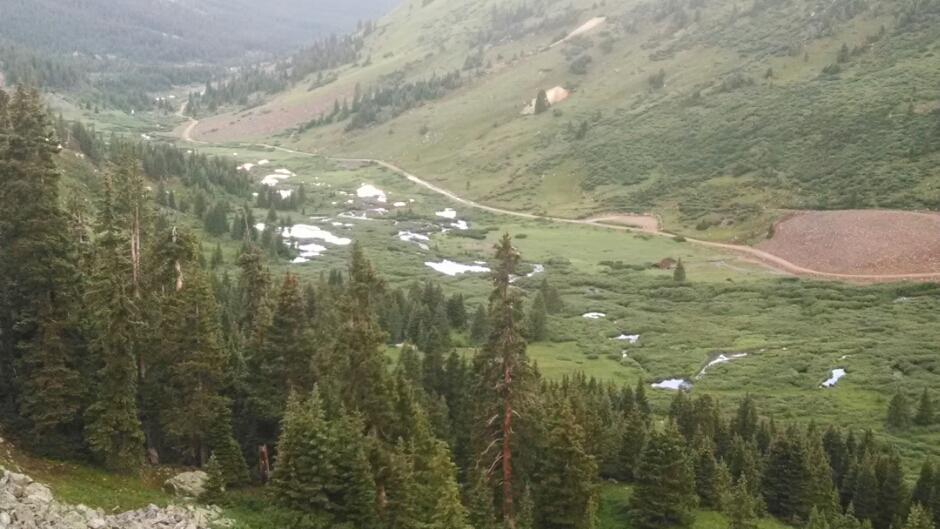 Two big climbs this morning, before afternoon weather, Mount Edward (not shown here, 13k) and Grays Peak (14k) on the right.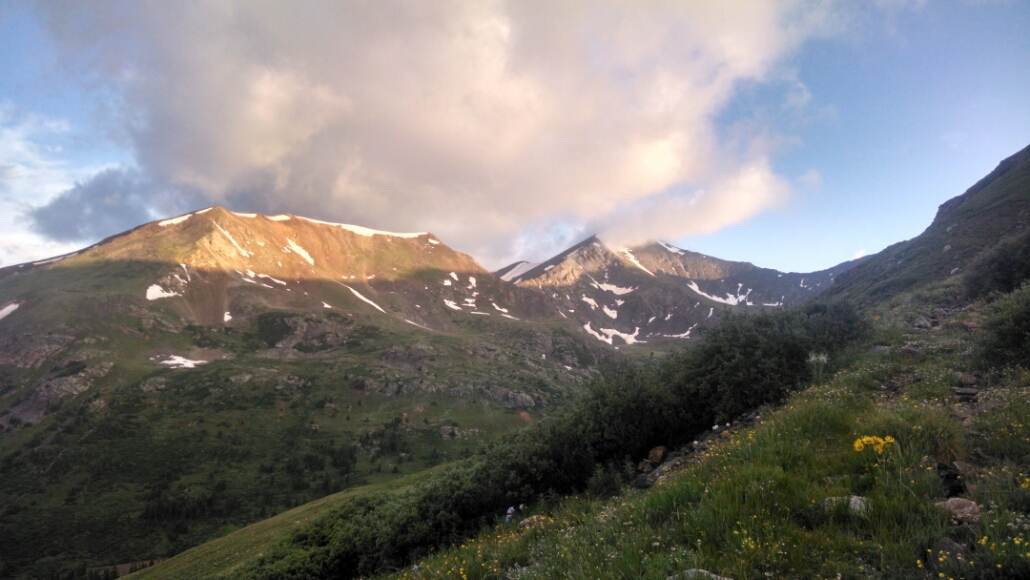 The climb to Grays Peak is on steady grade and good trail. Near the summit the trail vanishes and cairns suggest a way to the top. One can look down on many peaks at 13k.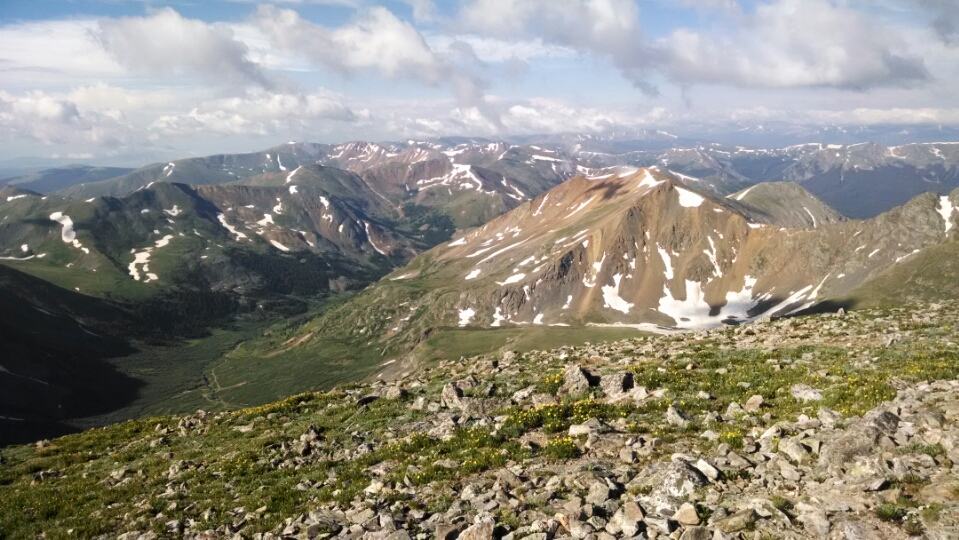 A narrow ridge with a series of "dragons teeth" peaklets connect the mountain I am on to the mountain I am going.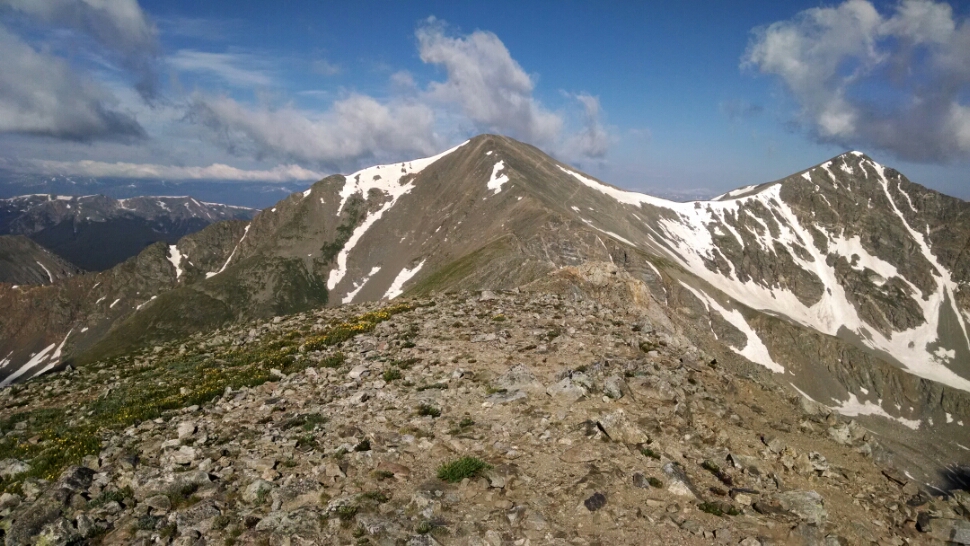 No cairns or built trail, the way is a "choose your own adventure". you can see faint trails of hikers before, sometimes, but nothing continuous. Do you stay on the rocky narrow ridge that might be impossibly steep on the other side, or drop from the ridge down a few feet on scree and boulder, risking rock slide.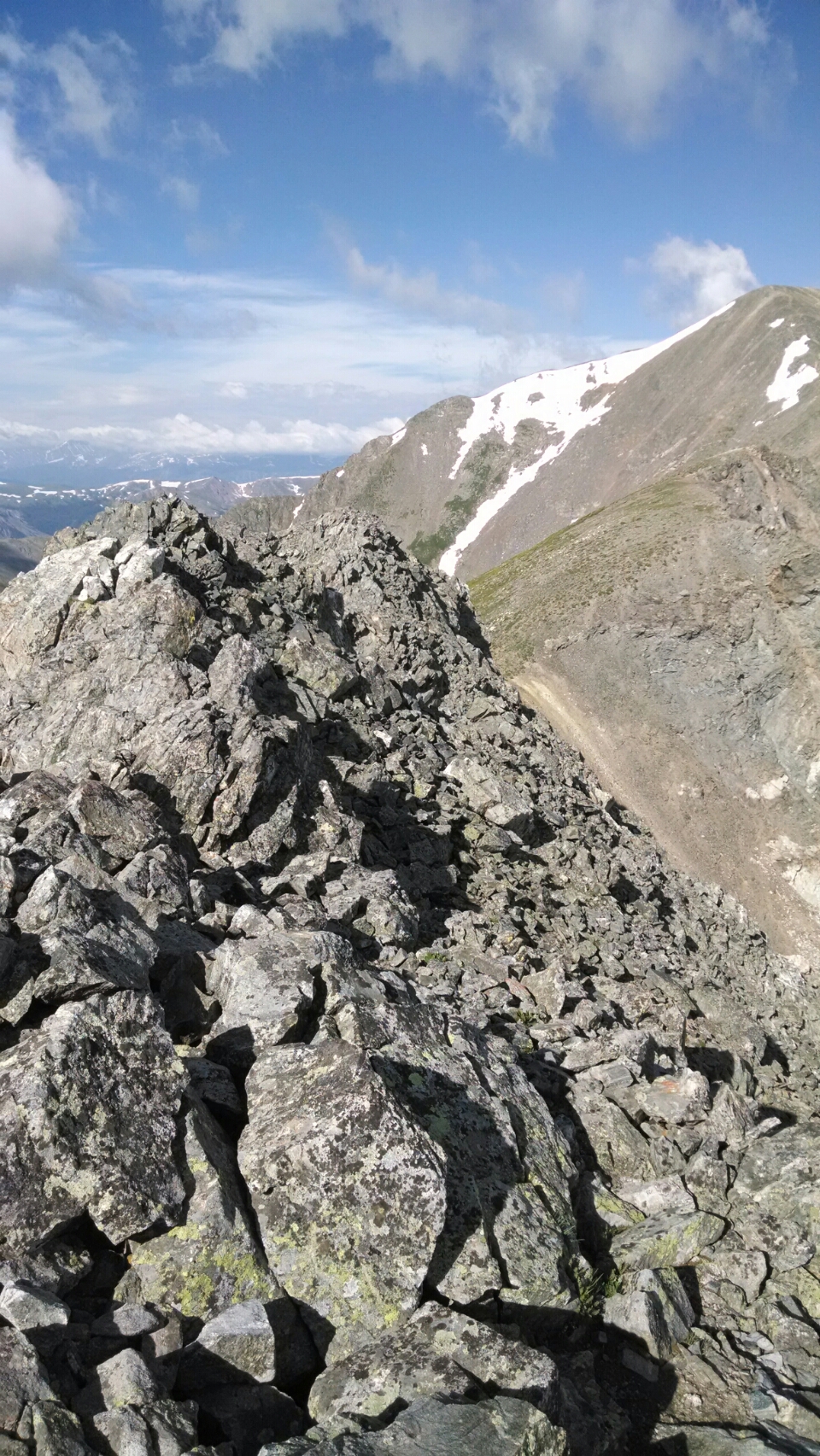 Finally, after careful work, terrifying and exhilarating, I struggle to the top of Grays Peak. Many day hikers are at the summit.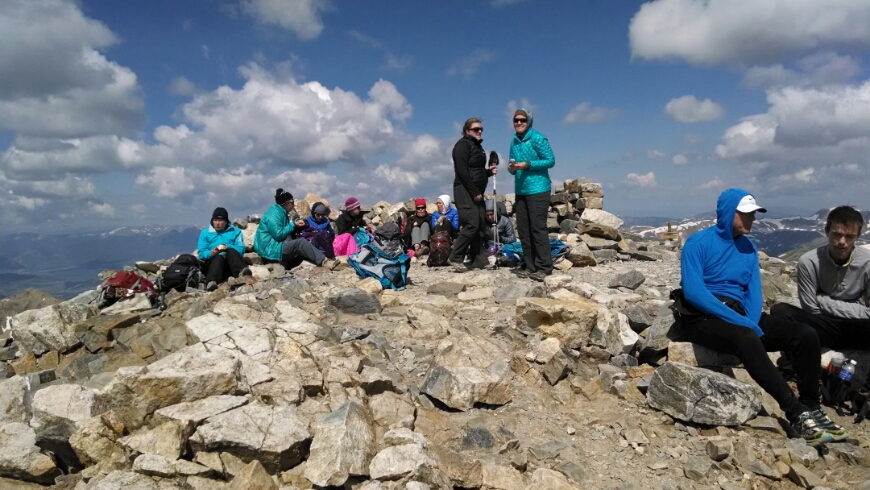 Someone brought a beagle, and I wanted a picture with it.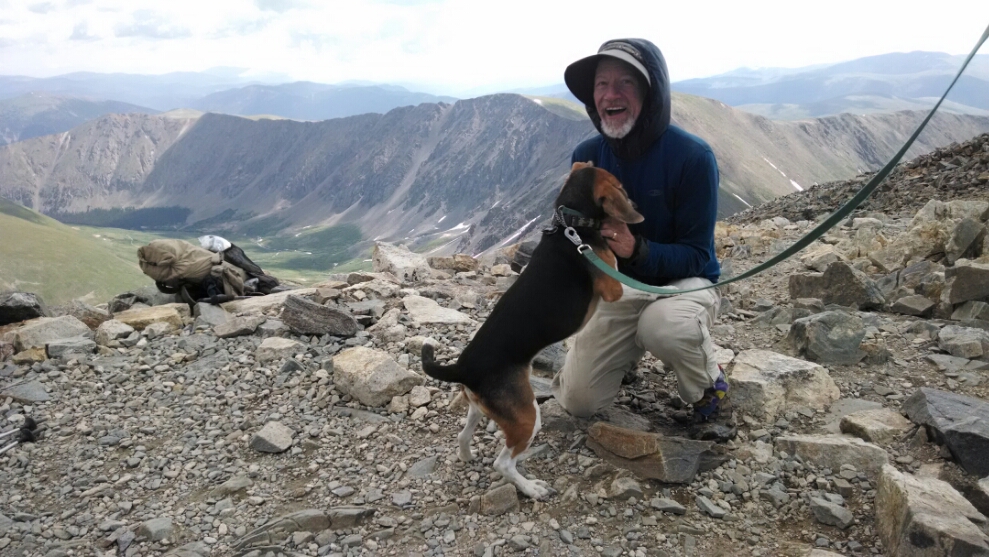 Someone else made a sign for the summit, and offered it for me to hold.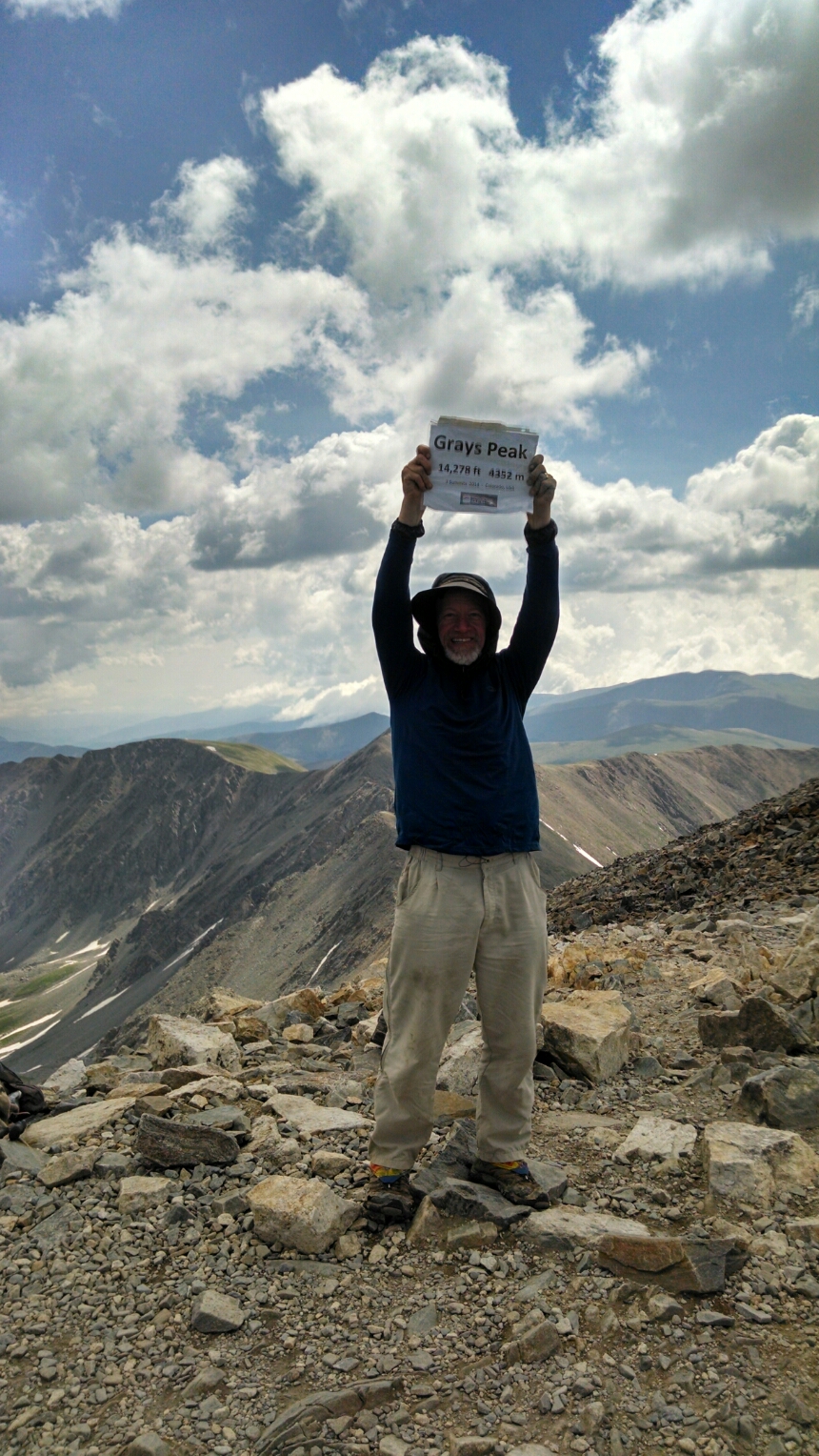 One the way down a mountain goat is practicing camouflage. Can you spot it?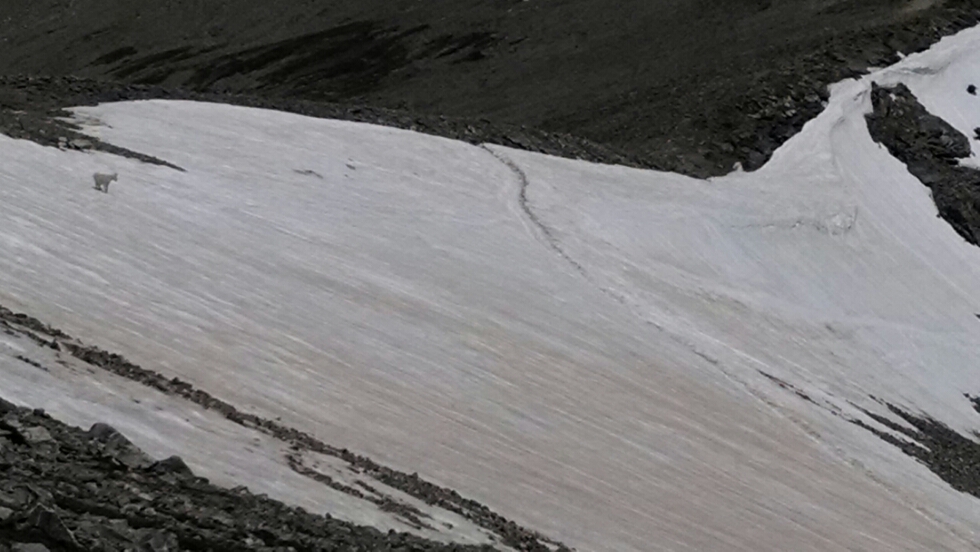 After descending on switchbacks, rain starts just before reaching the trailhead. On a roadwalk on forest service road, rain starts again heavily, and I wait under a tree for the hardest to pass, and continue walking. Several cars pass by with people from the summit, offering a ride.
A bike path connects to Herman Gulch trailhead, with intermittent rain and pretty views.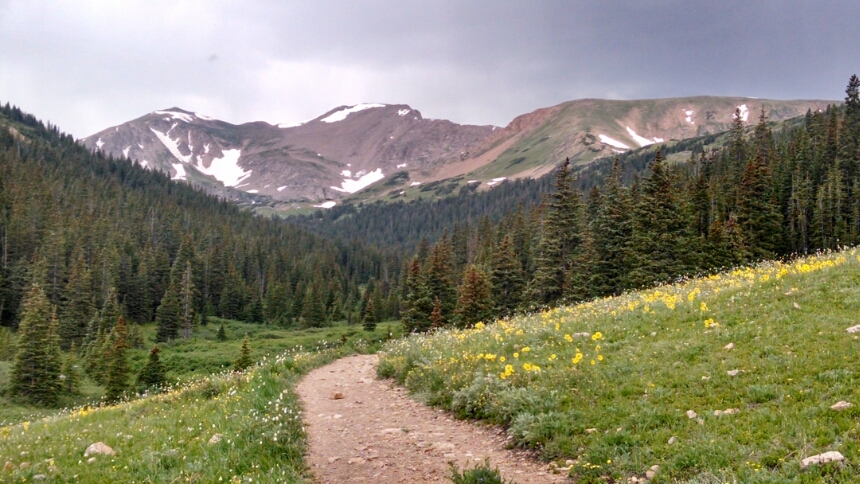 This couple has a bloodhound on the trail.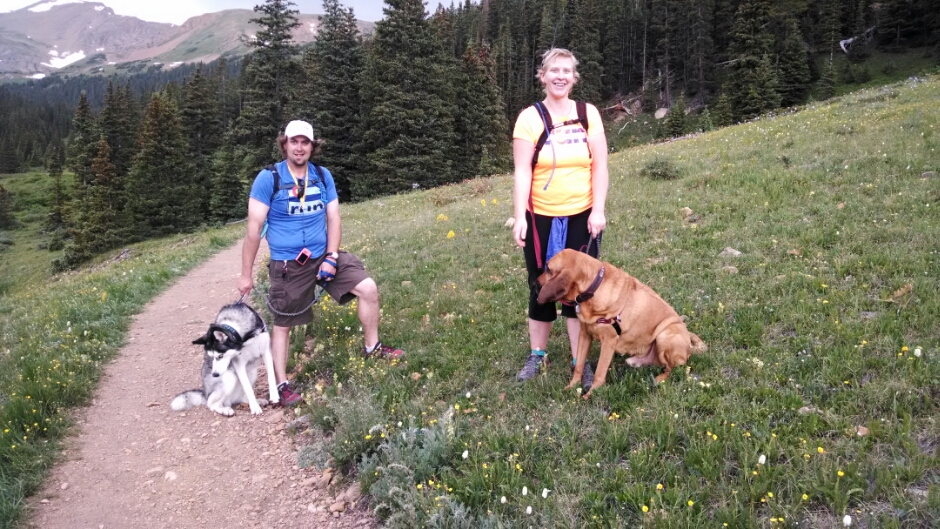 After a steady climb, I reach a good spot for camping, not too exposed to the ongoing electrical storm, close to the big climb in the morning, close to last water for 10 miles.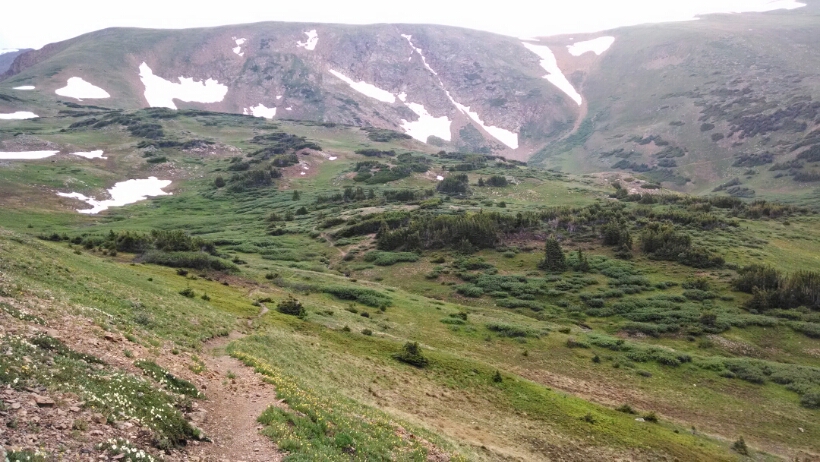 Like yesterday, I could have hiked longer, but weather and the prospect of a climb late in the day and camping in frigid heights limits my mileage. Now I may be too far to get to town tomorrow, depending on weather.
Rain again at night on and off, of course.
Day 29, 7/16/2014, Wednesday
Start one mile beyond 30-014XR, mile 1264, elevation 11310
End 31-041WT near Woods Creek, mile 1283, elevation 11881