"Some say opportunity knocks only once, That is not true. Opportunity knocks all the time, but you have to be ready for it. If the chance comes, you must have the equipment to take advantage of it." — Louis L'Amour
Do not use this version of my equipment list as a guide. At the end of the hike, I will have more real-world experience, and hope to publish an updated version informed by my adventures. Two days before I fly out, I am still considering changing some items, especially clothing.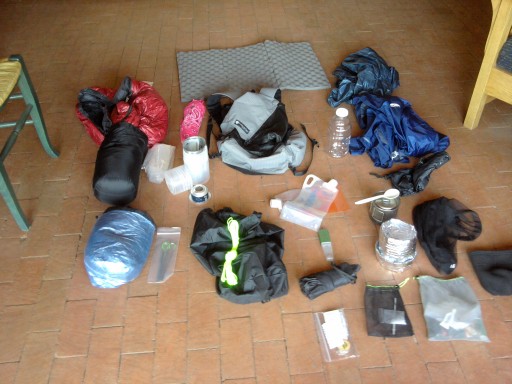 I would have liked to have built more of my own gear, as inspired by Ray Jardine's Beyond backpacking, but ultra-light is so new to me, and a generous and supportive spouse wanted me to spare no expense, that I splurged a bit on several of the small equipment manufacturers with a passion for lightweight gear: ZPacks, Mountain Laurel Designs, AntiGravityGear, GoLite, and more. When I am ready to try making more of my own equipment, then kudos to ZPacks for selling high-tech ultra-light fabrics and materials on their site.
REI, is it really so hard to show weights for all your products on your web site and in your stores? Do I really have to continue going into your store with an electronic scale?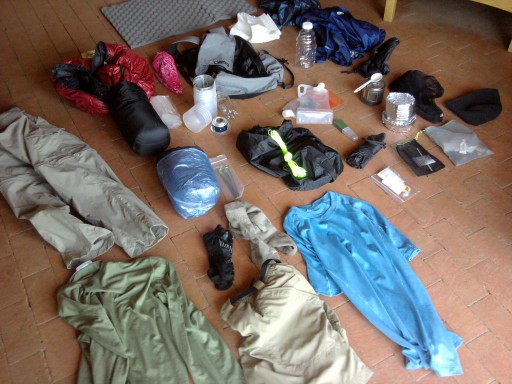 Comments on particular items:
The brim of my cap weighs more than the rest of the materials. I wonder if anyone has experimented with removing the center section of the brim, or substituting some kind of plastic mesh.
Instead of using low cut running socks, perhaps I should switch to longer socks because of the threat of ticks carrying Lyme disease. I treated all clothing with permethrin.
When the pack arrived in the mail I was struck by how small and ethereal it seems. With my frame pack background, if I had come across this item at REI I would have dismissed it without a thought, but I am confident of the choice due to on-line recommendations from several bloggers whose opinion I trust.
I really liked the butane stove on my previous trip because it is so easy to light and control temperature, yet I decided to go alcohol this time. Zenstoves has some really great info on making your own stove, and I did try a few designs. Eventually I purchased the Caldera system because I really liked the combination wind-screen and pot support, but anyone that wants to make more of their own gear should try making a soda-can stove.
The 500mL pot comes with a lid that helps keep it from being crushed in the pack. The volume is too small for cooking a pack of ramen in the pot, but works well for heating 2 cups of water for my PCG-in-a-zip-bag cooking.
I am not entirely comfortable with the design of the SteriPEN Freedom. The water sensors are spaced too far apart, so you have to use a wider mouth bottle. A recycled Powerade bottle with medium diameter mouth is still too small, and a G2 bottle only barely works if the bottle is completely full. I would be happier if the Freedom was a couple of ounces lighter as well. I might revert to only using tablets like most thru-hikers.
An alternative to the ZPacks tarp-tent would be combining a traditional tarp (good do-it-yourself opportunity) with a Mountain Laurel Designs SuperLight Bivy.
I lightly spray-painted tops of tent stakes with fluorescent green paint, increasing weight of six stakes by 2 grams or 6%.
Removing the nail-file blade of my Swiss Army Knife only saved 2 grams, so I wouldn't recommend anyone bother with that modification.
A razor not carried this time, but sent with mail packages.
I pine for lower weight trail-runners. Inov8, how about offering wide sizes?
Warmer clothing will be shipped to me as necessary, possibly around New Hampshire.
I use 2″x3″ zip bags to store some small items. Handier and lighter than snack-size zip bags in many cases.
Several hikers have published gear lists on the web that taught me a great deal. Thanks, people.
Related Posts: