My previous scouting for the Capulin Trail for an NMVFO project showed an impassable route, and the USFS recommended we switch to a different nearby trail in the northern Pecos Wilderness, the Sierra Mosca #156. Today I hiked in to check it out.
The short road from FR306 to Borrego Trailhead is too eroded for me to drive comfortably, so I parked at the intersection with FR306 and hiked 0.7 miles to the trailhead. Google Maps does not show a reasonable route to the trailhead, so it is better to follow the route to the Borrego Mesa Campground, and then turn off at the sign to Borrego Trail.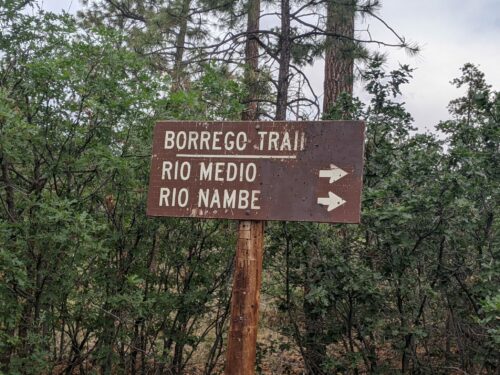 Borrego Trail seemed frequently used with good visible tread, and few downed trees. A log crossing across Rio Medio kept feet dry. After 4 miles is the intersection with Sierra Mosca Trail, a bit further south than my map showed.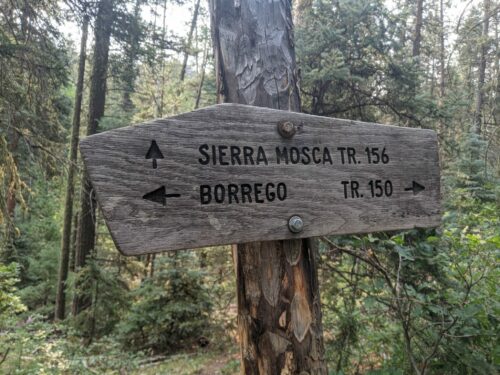 Tread continued to be visible on Sierra Mosca, with several cut blowdowns along the side of the trail to help mark the way. There were no recent signs of a recent burn, so these downed trees seemed to be just an ongoing replacement process. The trail follows along a gentle climb alongside Rito Con Agua for about two miles. At first, near the junction with Borrego Trail, the number of blowdowns were infrequent, but closer to the two-mile mark the blowdowns became more common, often clustered with several together. Beyond the 2 mile mark the tread became more faint, but old saw marks marked the route of the trail.
I did not scout beyond 2.2 miles, but counted 60 blowdowns, with the promise of many more beyond. Diameters of downed trees ranged up to 2 feet in diameter, suggesting a two-person crosscut saw may be needed.
The trail is not especially brushy, but several aspen saplings near the trail need to be lopped, along with patches of Gambels Oak.
Sierra Mosca intersects with Rio Molina Trail, which the NMVFO has a project with later in the year, which should offer loop opportunities. Mosca also connects to Capulin, if we can ever reopen that section of trail.