My adopted segment of the Continental Divide Trail welcomed me with an overnight backpack visit, after parking at the northern terminus at Surprise Tank. Most of the first day was spent clearing from the tread a low-growing opportunistic shrub, rabbitbush, currently in bloom, using a pick-mattock and hand pulling.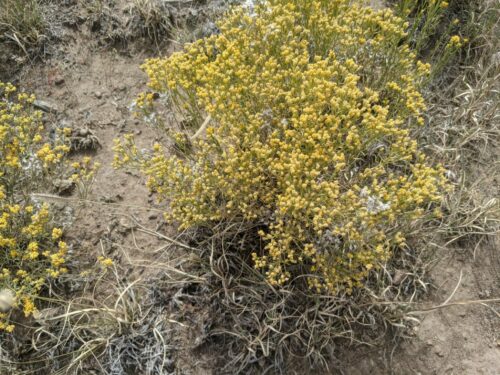 Hiking to the southern end by early evening, I observed that short sections on both ends of the segment were being hidden by grass growing in the tread. Perhaps not enough hikers are on trail here– most thru-hikers take the road alternate into Pie Town.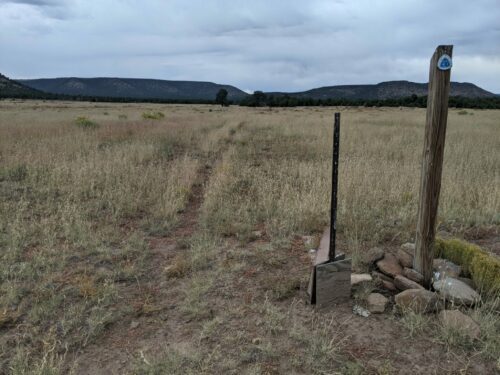 Almost no lopping will be needed for a while, as the corridor is well brushed and the juniper and piñon are slow growing. A few small spans in the heights at the center of the segment are badly eroded into ditches, but that has not changed since I inherited the section, and is past the point of being fixed by water diversion structures, and would need re-routes.
A slow drizzle started in late nightfall and continued through the night. The strangely high-pitched bugling of elk sounded at dusk. A coyote crossed the trail the next morning. Other than a murder of crows at a water trough, no other animals came out to see me.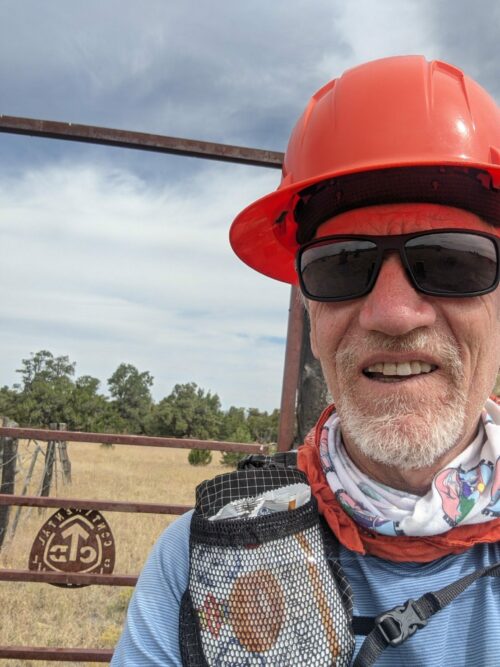 A couple of small cairns were added to mark the trail crossing an arroyo, and several drains were cleaned out and improved. Only six deadfalls needed dragging off the trail.
Earlier in the year the last of three pie shops in Pie Town closed, and reopened with a new owner and renamed from The Gatherin Place to Pie Town Pies. This owner also reopened the Pie-O-Neer, so we are now back up to two shops, both supplied by local bakers. I tried slices before and after my work session, to support the local economy ;-)