CDT Montana 2016
[For the beginning of my Montana CDT trip, start here.]
Day 45, August 19, Friday
Start Fifty Mountain Campsite 30-207CG
Stop Waterton Park, CANADA 30C-043TH
Trail miles walked: 18.9
Most of the morning is on the northern segment of Highline Trail, halfway up a high ridge.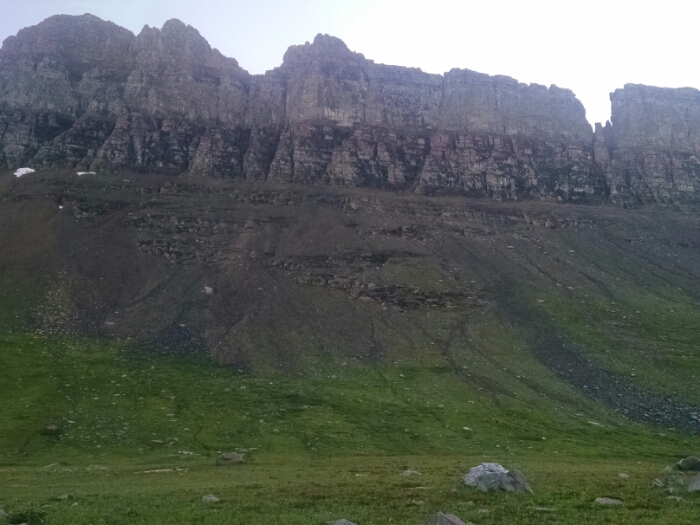 Snow-covered peaks are in the distance across a lower ridge. Several intriguing glaciers and lakes are above me on top of mountains that I am walking along, not visible from the trail itself.
The trail starts to descend, with wet overgrown vegetation at lower elevation.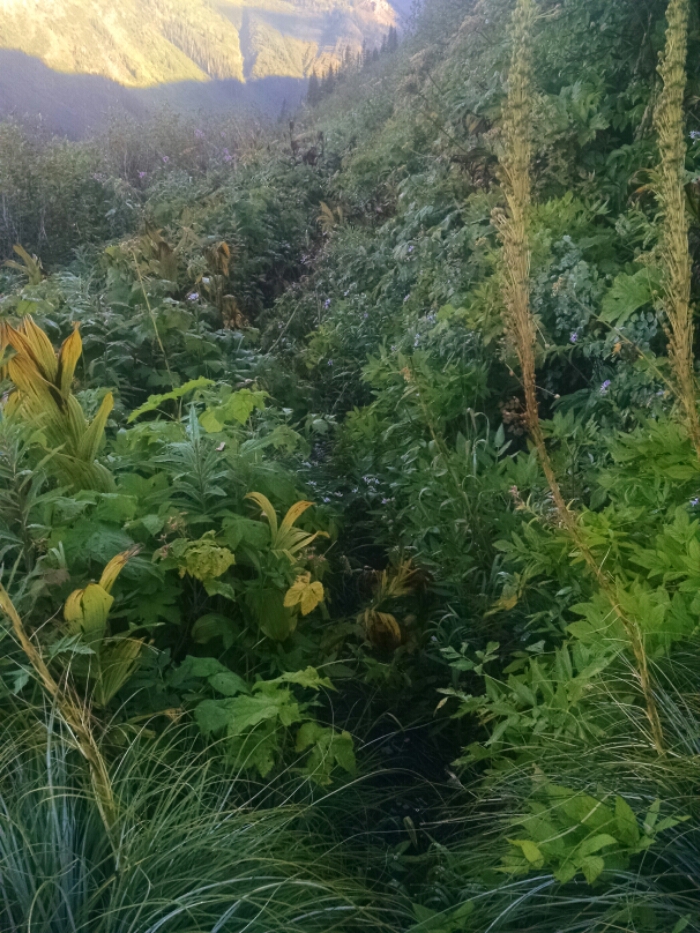 Can you make out the path?
Along a particularly steep slope horses and mules were tied up on the trail, blocking the way.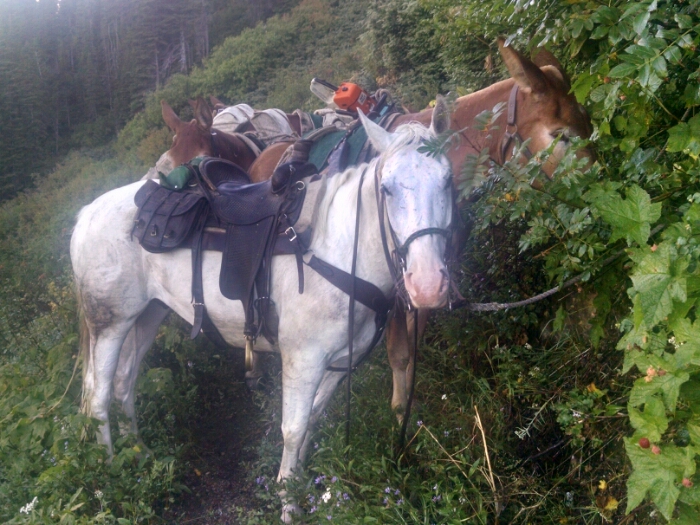 The horse would let me slip by on the trail, but the mules balked and would not let me past. I tried bushwacking the precipitous wet slope below the trail, but thought better of it after a fall and sliding.
Josh, a park employee who hauled supplies in backcountry came back to the animals.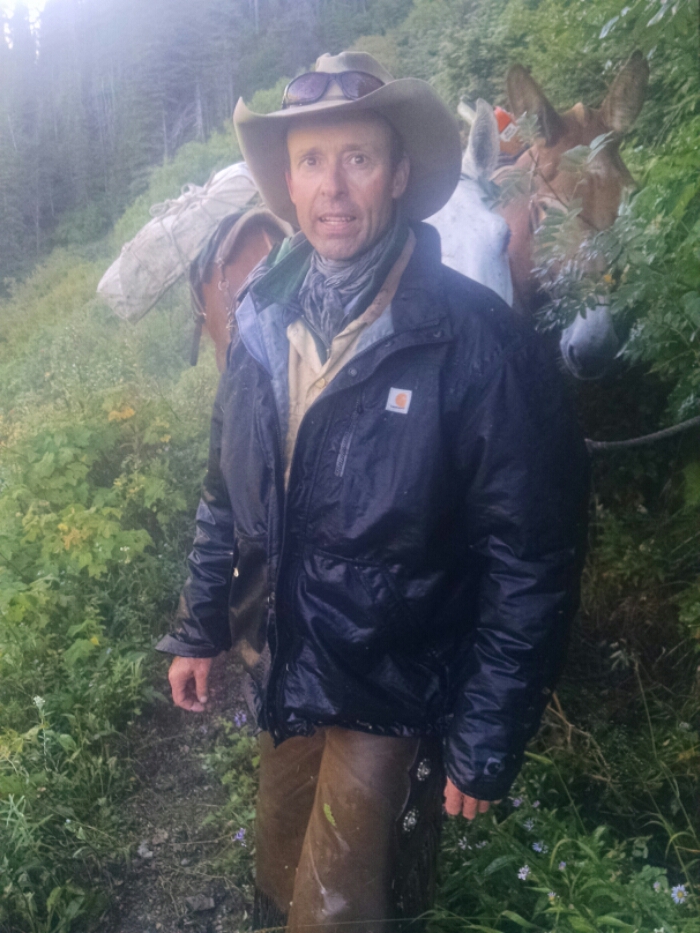 He had a mule come off the trail, stuck in a ravine down below, and grabbed a chainsaw to clear a path back. He showed me how to bushwack around by holding onto the wet brush like ropes.
Finally Goat Haunt Ranger Station appears.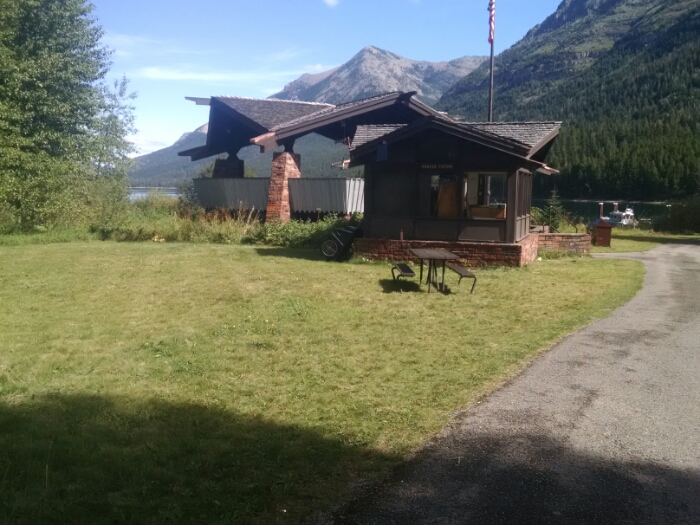 This is a border entry point on the US side for Canadians hiking in or taking the ferry. Several day hikers were on the trail, so the ferry might have recently arrived. I chatted with a couple of border patrol agents.
A ranger checked my backcountry permit when I mentioned the CDT. He said he has been writing citations right and left, as a large number of CDT hikers are going without proper backcountry permits, frustrated by full campsites and wanting longer hiking days than the rangers allow. This news surprises me.
Next to the ranger station is a first look at Waterton Lake.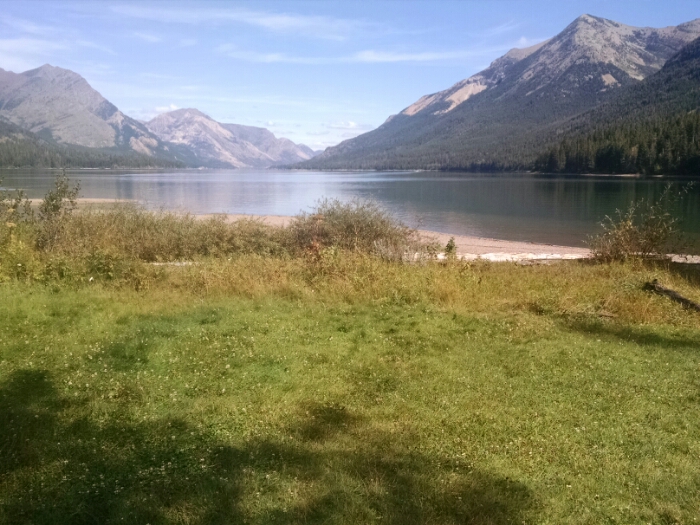 Several miles of lake and mountain vistas on rolling trail make good walking.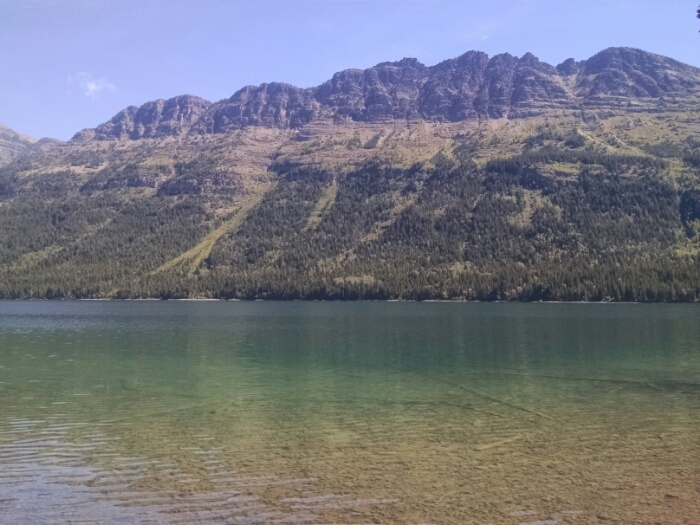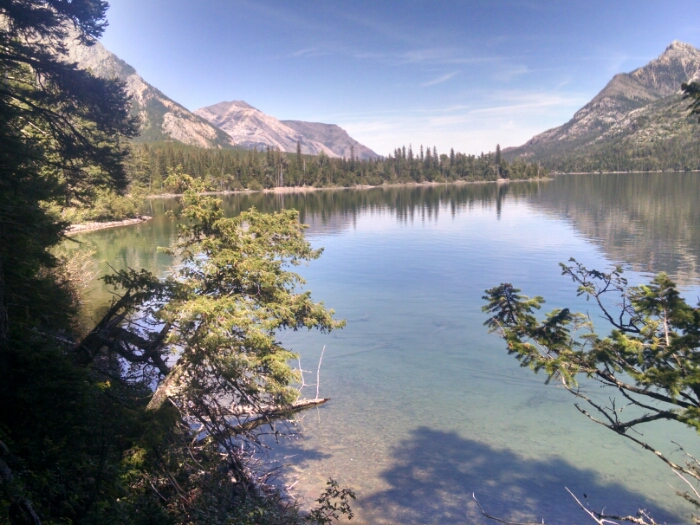 At the international border, a US and Canadian ranger are giving a talk to a group of day hikers about the Peace Park at the border.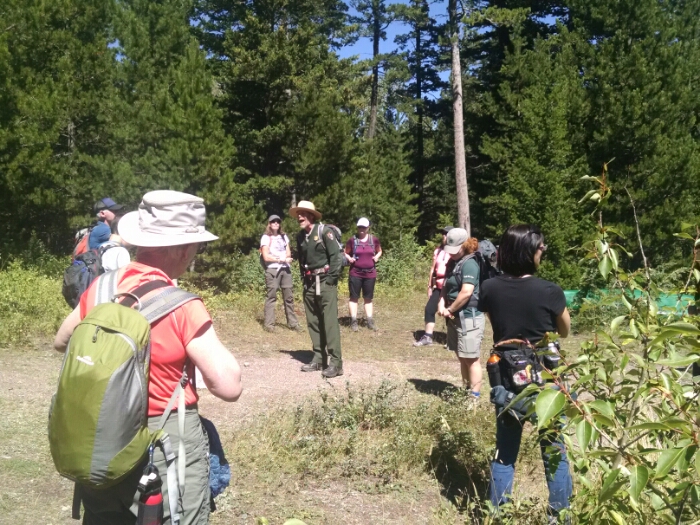 We enact the ceremony of Hands Across the Border by lining up on each side and shaking hands.
Turns out it is hard to hold a smart phone camera and take photos while simultaneously shaking someone's hand.
I d not do many selfies, but being on the border next to an obelisk engraved with "Canada" must be an exception.
Sign without comment.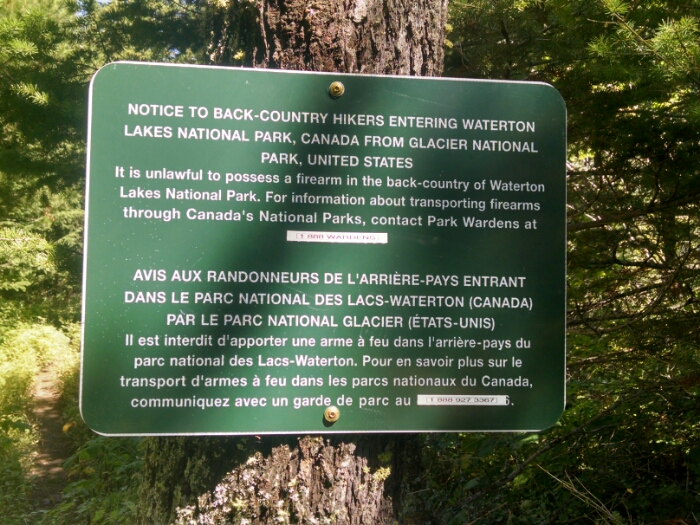 On two separate locations on the trail past the border I see black bears, each retreating quickly. How strange to not see any bears in Montana in 45 days of hiking, and then see two my first hours into Canada.
Let us enjoy a few final lake views on the walk into town.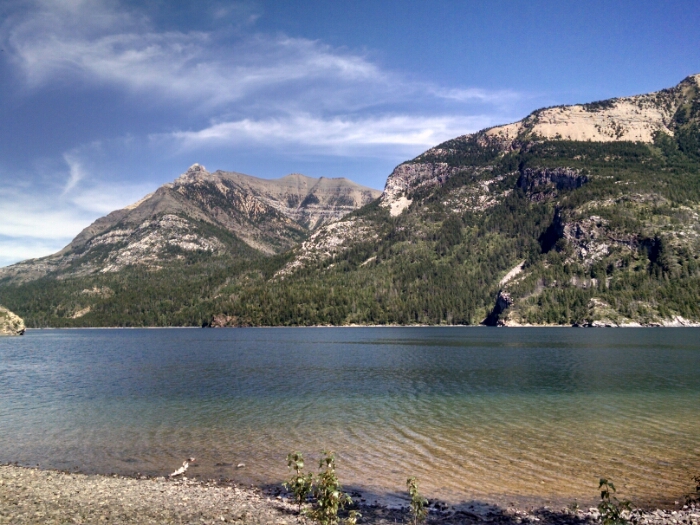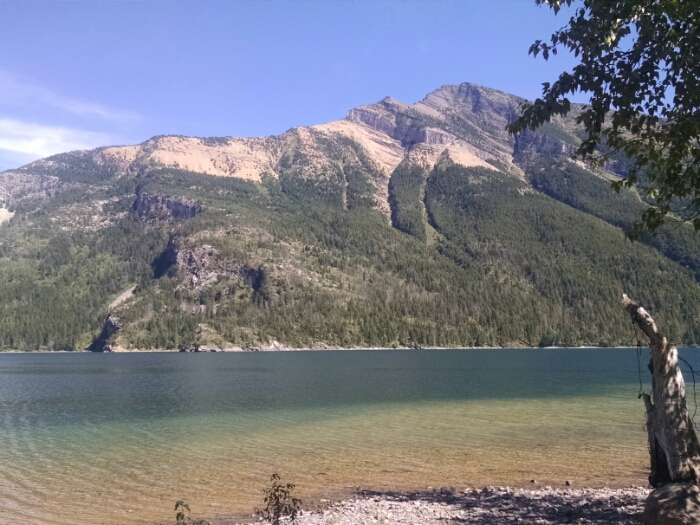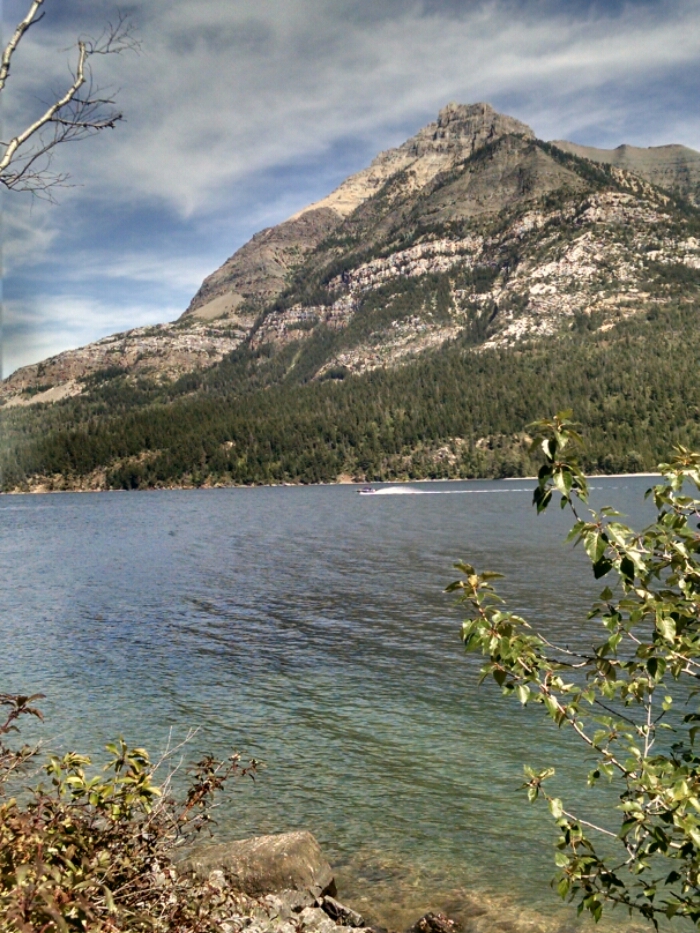 Waterton RV park is all full, even for tent sites, so I am forced to find a motel, and feel lucky to get a room in such a bustling tourist town late on a Friday.
My CDT trek, started in 2013, doing one state each year in order northbound, is now complete.
HUZZAH!!!
What an adventure to remember!