Main blade, nail file with screwdriver tip, scissors, tweezers, and toothpick: the Victorinox Classic SD Swiss Army Knife is a marvel of design in a lightweight form factor respected by long distance hikers. I do not really need the toothpick, though, so can something else go in that slot? The plastic toothpick is roughly 1.75 inches long x 0.12 inches wide x 0.047 inches thick.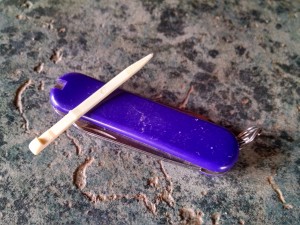 FireSteel.com sells blank rods of ferrocerrium in various sizes, including the FireSteel Tiny, 1/8 x 2 inches, at less than US$1.00 per rod. 1/8 inch is close to the width of the toothpick, so we just need to grind down one side flat, grind down most of the opposite side to a thickness of 0.047 inches. We must leave a thick tip at one end as with the plastic toothpick, to allow fingers to remove the gadget from the handle of the knife.
Order several blank rods in case you break one or cut down too far. At first I thought about using a benchtop milling machine to precisely make the modifications, but decided that is overthinking the task, after watching DiResta do free-form knife creation metalworking. I simply used a grinding wheel, holding the firesteel at one end with vice-grips, and ground freehand, checking periodically with calipers and checking fit in the toothpick slot of the knife itself, often dipping the rod in water to keep temperatures down so the metal does not temper.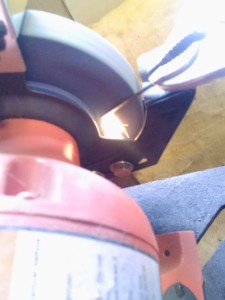 At 0.047 inches thick, the firesteel feels pretty fragile and likely to break. Scraping the firesteel with the blade of the knife makes respectable sparks when you learn the proper method, certainly enough to start an alcohol stove if your primary fire starter stops working. Since the toothpick firesteel is so thin and feels fragile, I rest it on a flat surface before scraping with the knife, to help prevent breakage.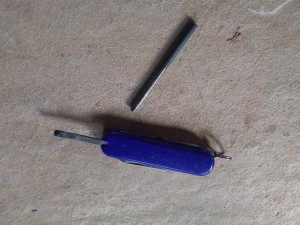 The weight of the toothpick firesteel is too small for my electronic scale to register. Would I recommend this mod to other hikers? I am somewhat concerned about breakage in the field, so use at your own risk. The idea is presented here in the hope that someone else can suggest improvements.