… You can't always get what you want
But if you try sometimes you might find
You get what you need

— Mick Jagger, Keith Richards, Rolling Stones
| | | | | | |
| --- | --- | --- | --- | --- | --- |
| | | | | | |
| . | Category | Item | Notes | Weight in grams | Weight in oz |
| . | worn/carried | | | | |
| . | | camp shirt | Icebreaker merino long sleeve crew | 171 | 6.0 |
| . | | pants | RailRiders Eco-Mesh Pant | 310 | 10.9 |
| . | | trailrunner shoes | Merrell Moab Ventilator | 992 | 35.0 |
| . | | hiking gaiters | Dirty Girl | 34 | 1.2 |
| . | | insole inserts | green SuperFeet | 106 | 3.7 |
| . | | hiking socks | REI mid-calf merino | 91 | 3.2 |
| . | | knee brace | Cho-Pat Dual Action Knee Strap | | |
| . | | bandana | AT logo cotton/poly bandana | 30 | 1.1 |
| . | | trekking poles | Black Diamond Ultra Distance Z-pole with carbide tips minus straps | 263 | 9.3 |
| . | | sun glasses | | 20 | 0.7 |
| . | | hat | Sunday Afternoons Adventure flap hat | 70 | 2.5 |
| . | | | | | |
| . | Total worn/carried | | | 2087 | 73.6 |
| . | | | | | |
| . | | | | pounds: | 4.6 |
| . | | | | | |
| . | | | | | |
| . | pack | pack | ZPacks Arc Blast backpack | 440 | 15.5 |
| . | | pack liner | trash compactor bag | 60 | 2.1 |
| . | | cell phone holder | Zpacks cuben fiber shoulder pouch | 8 | 0.3 |
| . | | phone | Android phone: MotoX (camera, GPS, etc) | 136 | 4.8 |
| . | | | | | |
| . | Cook/water | water bottles | 2 x 1.25 liter soda bottles | 84 | 3.0 |
| . | | even more water | 1 liter Platypus | 30 | 1.1 |
| . | | cook stove | Trail Designs Caldera Sidewinder TiTri with Gram Cracker for Esbit fuel | 21 | 0.7 |
| . | | butane lighter | Scripto Tiny Lite | 12 | 0.4 |
| . | | cook pot | 0.3Liter Evernew Titanium mug-pot with lid | 74 | 2.6 |
| . | | pot cozy | homemade with Reflectix | 25 | 0.9 |
| . | | spoon | lexan | 9 | 0.3 |
| . | | water purifier | Sawyer Mini | 81 | 2.9 |
| . | | water purification backup | 10 MSR Aquatabs | 1 | 0.0 |
| . | | food bag | ZPacks Roll Top Blast | 40 | 1.4 |
| . | | rope | ZPacks 1.5 mm Z-Line Cord | 21 | 0.7 |
| . | | | | | |
| . | Shelter | tarp/tent | ZPacks Hexamid solo tent w/screen | 269 | 9.5 |
| . | | tent stakes | 6 Tite Lite titanium stakes | 37 | 1.3 |
| . | | tent stakes | 1 titanium V Stake | 9 | 0.3 |
| . | | | | | |
| . | Sleeping | sleeping bag | ZPacks 20F | 650 | 22.9 |
| . | | sleeping pad | Gossamer Gear NightLight_Torso | 101 | 3.6 |
| . | | ground cloth | Polycryo medium size | 42 | 1.5 |
| . | | | | | |
| . | Clothes | camp shirt | Icebreaker merino short sleeve | 139 | 4.9 |
| . | | camp shorts | GoLite men's nylon shorts | 132 | 4.7 |
| . | | warm top | Western Mountaineering down vest | 125 | 4.4 |
| . | | warm hat | LLBean Trail Model fleece hat | 36 | 1.3 |
| . | | rain jacket | GoLite Malpais Trinity | 217 | 7.7 |
| . | | wind shirt | Montbell Tachyon anorak | 63 | 2.2 |
| . | | fleece gloves | LLBean Polartec Liner Gloves (with AnyGlove on forefingers and thumbs) | 38 | 1.3 |
| . | | rain mitts | ZPacks cuben fiber mitts | 28 | |
| . | | compression socks | Truform below knee stockings 20-30 mmHg | 64 | 2.3 |
| . | | spare socks | SmartWool mid-calf merino | 91 | 3.2 |
| . | | | | | |
| . | Misc | head net | "Sea to Summit" mosquito net, doubles as clothes bag | 23 | 0.8 |
| . | | first aid kit | band-aids, molefoam, aspirin, loperamide, sudafed, super glue, … | 61 | 2.2 |
| . | | sewing kit | home assembled | 20 | 0.7 |
| . | | tooth care | dehydrated dots of toothpaste, toothbrush with trimmed handle, gum brush, floss | 17 | 0.6 |
| . | | soap | Dr Bonner liquid in 0.5oz dropper bottle | 24 | 0.8 |
| . | | wipes | 8 dried wipes in zip bag | 24 | 0.8 |
| . | | toiletry bag | no-see-um mesh bag 5″x6″ | 4 | 0.1 |
| . | | magnifying glass | credit card size fresnel lens | 2 | 0.1 |
| . | | wallet with id | all-Ett sport sailcloth wallet (5g) plus cards | 36 | 1.3 |
| . | | repair kit | duct tape, foil tape, etc | 25 | 0.9 |
| . | | backup fire starter | Bic mini lighter | 14 | 0.5 |
| . | | pen | ballpoint refill cartridge + spare | 1 | 0.0 |
| . | | flashlight | Petzl e+Lite | 27 | 1.0 |
| . | | backup compass | Suunto Clipper compass | 4 | 0.1 |
| . | | maps | Ley maps, double-sided 8.5×11, current trail section | 55 | 1.9 |
| . | | solar charger | Harbor Freight 5W folding solar panel, trimmed | 240 | 8.5 |
| . | | usb charger | for phone and battery pack, Apple travel charger 5W wall wart | 23 | 0.8 |
| . | | usb cable | 9inch microUSB cable | 13 | 0.5 |
| . | | recharger pack | Jackery Mini 3200mAh | 82 | 2.9 |
| . | | headphone | Apple Earpod | 11 | 0.4 |
| . | | itinerary+guide | only carry pages needed for that week | 10 | 0.4 |
| . | | insect repellent | 100% DEET repackaged in 0.5oz dropper bottle | 23 | 0.8 |
| . | | sun screen | liquid, repacked in 0.5oz dropper bottle | 24 | 0.8 |
| . | | toilet paper | partial roll, remove cardboard tube, in zip bag | 20 | 0.7 |
| . | | knife | Victoronix Swiss Army Classic | 20 | 0.7 |
| . | | accessory bag | no-see-um mesh bag 7″x9″ | 8 | 0.3 |
| . | | | | | |
| . | Total base weight | | | 3894 | 137.4 |
| . | | | | | |
| . | | | | pounds: | 8.6 |
| . | | | | | |
| . | | | | | |
| . | Sometimes carried | | | | |
| . | | | | | |
| . | | rain pants | | 233 | 8.2 |
| . | | shoe traction | Yak Trax Pro | 144 | 5.1 |
| . | | neck gaiter | microfleece | 46 | 1.6 |
Stove: No-cook sounds promising, but for frigid Colorado I was glad to bring a stove for hot dinners. Esbit fuel is easier to mail than alcohol, allowed in flat-rate Priority Mail boxes, though Heet is available in several Colorado trail town. Compared to alcohol, Esbit has an odor and leaves a residue on pots. I burned Esbit tabs exclusively on this trip as an experiment, and might continue solid fuel for future hikes.
Esbit blocks are harder to light than alcohol. Practice at home on windy days to find a method that works for you. I used a couple of squares of tissue paper, lit within the wind-screen, and used that flame to start the solid fuel. Shaving bits from the fuel to use as a starter, as demonstrated in several YouTube videos, did not work reliably for me. One "wind-proof" butane torch purchased during the trip did not work at high altitudes.
I had previously used Trail Designs Caldera alcohol stove system that required a plastic container for the aluminum conical wind screen (pictured on left), so their new titanium screen that rolls up and fits in the pot (on the right in photo) is a welcome improvement.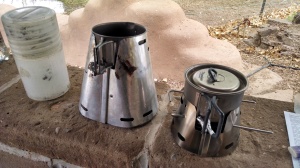 Earbuds: In-ear buds offer more isolation (blocking outside noise) and are popular in cities, but on the trail being able to hear all external environmental sounds (like, for instance, bears) is a good idea. In-ear buds also tend to enhance noise produced by rubbing of wires against clothing, with lots of low frequency components. Non-in-ear buds (we need a better terminology) are preferred when hiking.
It is easy to get earbuds with volume-up and volume-down buttons that work with iPhones, but Android phones follow a different standard for earbud remote buttons. Why are so few choices available for Android, which has huge volume world-wide? Is it a patent issue? (And we know about the earbud with volume slider, and apps that re-interpret patterns of clicks on the Pause remote button. Give us real volume buttons.)
Clothing: Rather than bringing extra warm clothing for Colorado, I brought a toasty warm sleeping bag and crawled inside soon after setting up camp.
Sleeping bag: Our 32F Summerlite sleeping bag was not warm enough for Colorado, so I enjoyed a 20F down blanket with zipper option from ZPacks, and used a fleece hat and fleece neck gaiter to keep head warm, since this is not a mummy bag.
Sleeping pad: We stayed with the tri-fold foam pad, with one modification: On one section we painted the sign "Hiker to Town" and on another section we painted "Hiker to Trail".Latex paint was used, and a spray clear-coat added to protect the sign, but the letters were showing wear by the end. We might try fabric paint next time.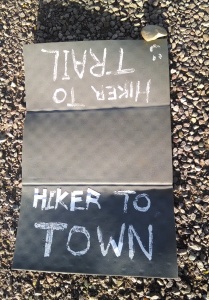 Holding these large visible signs over my head made hitch-hiking so much easier!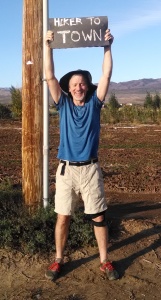 Solar panel: I purchased a Goal Zero Nomad 7M, which turned out to be much heavier than published specs, even after cutting off unneeded plugs and grommets. Too heavy to bring, at 399 grams. A Harbor Freight solar panel, no longer sold, was brought instead, but the electronics stopped working midway through the hike. Afterwards I carried an extra USB charger, and still had to limit listening to audiobooks and podcasts on the rest of the trip to conserve battery life. A better solution is needed next year.
Foot care: My shoes from the New Mexico hike still looked good, so they came along this trip. Toward the end of Colorado the shoes were being held together by dental floss stitching and layers of Shoe Goo.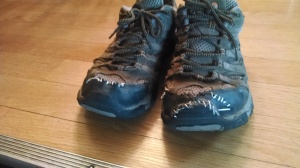 Colorado has much wetter trail than New Mexico, and my soggy feet had more problems with blisters and raw rubbed skin. A specific foot care routine each evening seemed to help: wash feet, apply alcohol gel on blisters and skinned areas, then apply antibiotic ointment, and finally put on compression socks. Each morning bandages and mole foam were applied for blister protection. The trail was often wet, and socks would become soggy by noon. Bandages and mole foam would not stay stuck, but water-proof medical tape worked well. Remove the plastic shell and sides and just keep the tape.
My little toe kept rubbing into its neighbor, making a raw spot. Usually this is a sign of too-narrow shoes, but I use a wide size shoe that was fine on previous trips, so perhaps the damp environment was to blame. I found these little toe-sized foam tubes at Wal-Mart.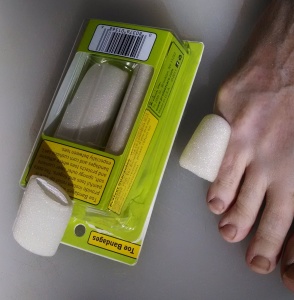 Just cut to size, slip over the toe, secure with a bit of tape, and problem is solved.
Hydration: Water is plentiful in Colorado, so the two two-liter soda bottles were replaced with 1.25 bottles, which still fit well in my pack side pockets. A Sawyer Filter was always screwed on one bottle, and as is my practice the soda bottle was squeezed to filter water instead of bringing along a squeeze bag that might develop a leak.
My filter froze the first night, which greatly reduced water flow. Do not let your filter freeze in the San Juans– keep it inside your sleeping bag at night! Sawyer Mini Filters are now carried by Walmart, for when you need to learn the hard way like I did.
Related posts: