MRT 2021 Day 6, April 10, Saturday
• Start S2 mile 25
• End S2 mile 49.1
• Miles walked: 24.1
A final view of Woods Canyon just bypassed shows how far it has cut into the Rim, and how far to hike around the cut.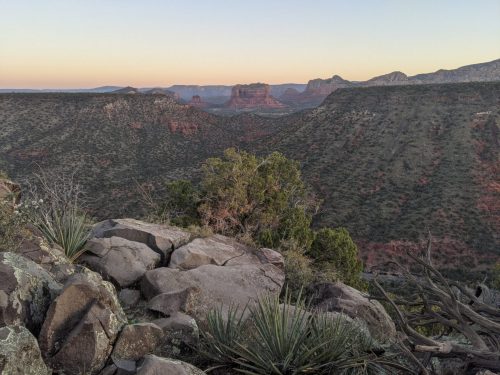 After finishing the old wagon road and passing I17, the morning stays on forest roads on grassy land with scattered lava rock and widely spaced junipers. The trail crosses Yarick Canyon, shallow and not a difficult traverse. Out of several stock tanks along the route during the day, Mullican Place Tank stands out, more of a nature area than a tank, with shade trees, ducks, frogs, and shaped more like a natural lake. This is what all tanks should aspire to when they grow up.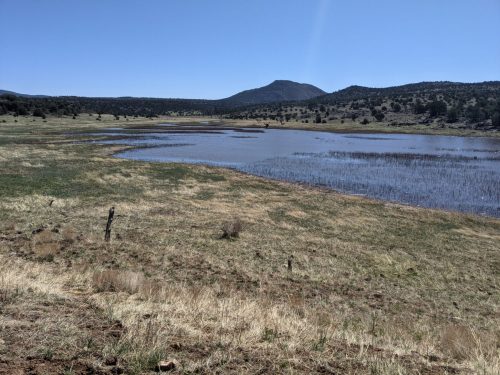 In the afternoon the trail provides a special treat. Descending down well-constructed Bell Trail down a deep canyon, we cross always-flowing Wet Beaver Creek at a popular swimming hole, and plenty of people are out to enjoy the water.
After several days on the trail, my clothes are a bit fragrant, so I stop for a soak.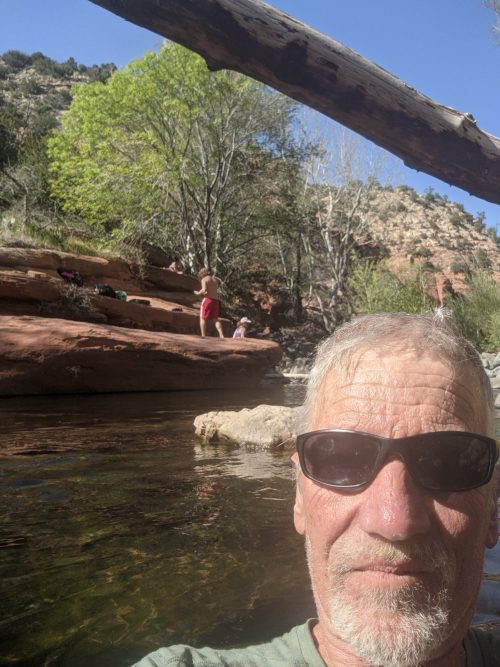 Out of the canyon, the trail resumes on the Rim among grass, juniper, and tanks, and a dozen elk are grazing on grass on the edge of the last tank near sunset.
Finished audiobook The Adventures of Sally, by P.G. Wodehouse.